Dynamics 365 for sales improves relationships and drives sales
Empower your sales team with the Dynamics 365 for Sales App to build authentic relationships and boost sales productivity. Make the most of your data, better understand your potential customers, engage more effectively and secure the purchase quicker.
Dynamics 365 for Sales Features:
Record taggingImproves sales performance by helping you segment leads and opportunities.
DocuSign connectorThis integration instantly simplifies paperwork for all of your team and your clients, allowing you to make the sale faster.
Address capture Collects your clients' details automatically, increasing the value of the data at your disposal.
Multi-select lookup Lets you search and select according to multiple field values on any entity within Dynamics 365, enabling your team to be much more specific.
Character counter When a character limit has been applied, you can instantly see how many characters are remaining when entering data.
Last activities Helps you ensure your team members have a single-view of every interaction with each client.
Auto number Automatically generates a number to be used to identify each record.
Price list manager Saves your team's time by applying new pricing across all products from one place.
Dynamics 365 for sales capabilities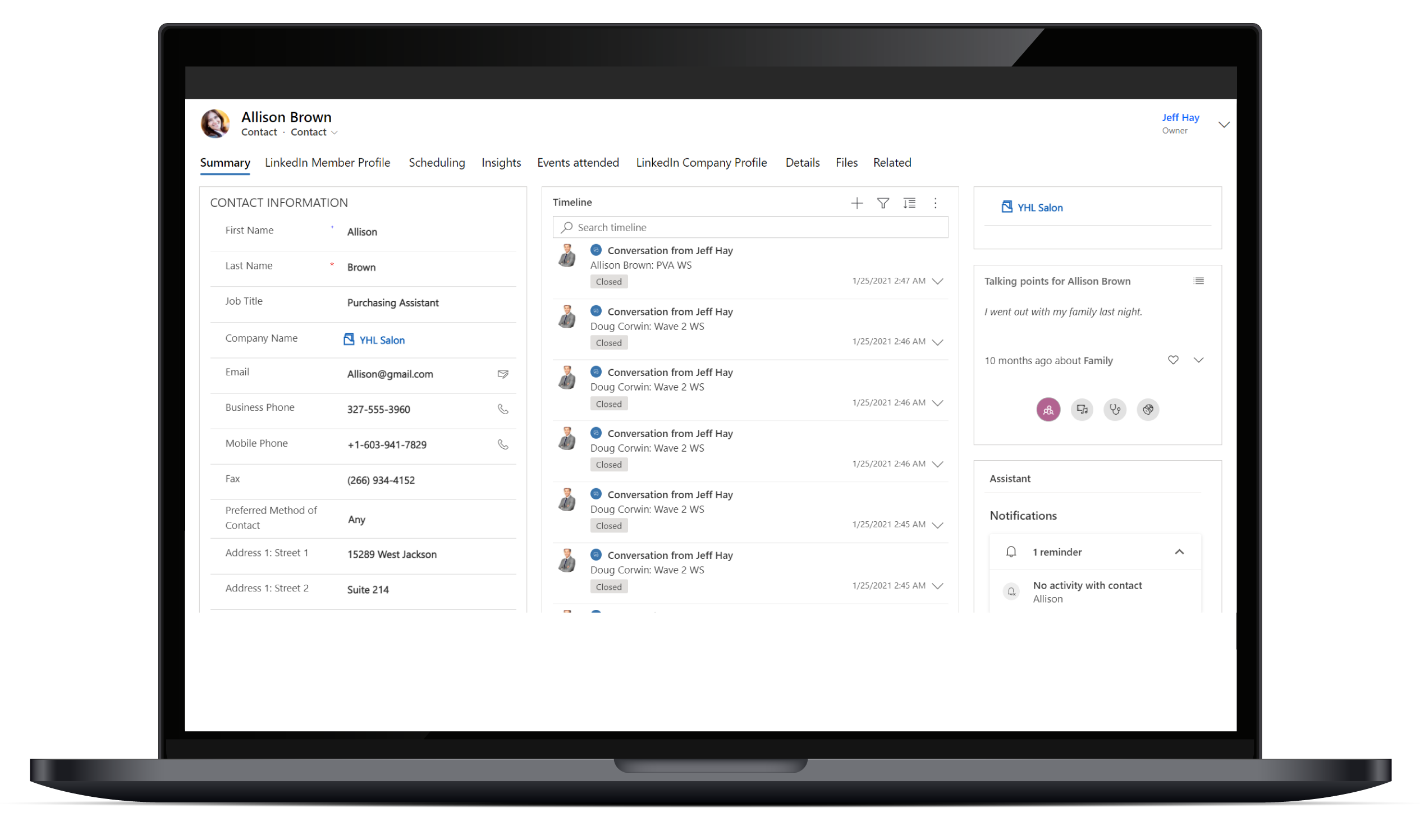 Personalise customer engagement to warm up relationships
Get a picture of relationships: Dynamics 365's interactive charts help you keep track of your contacts.
Monitor relationship health: Dynamics 365 and Microsoft 365 give you indications of the health of customer relationships and any risks to be aware of.
Manage more relationships at once: Dynamics 365 integrates with LinkedIn Sales Navigator, merging relationship data and processes, making it easier for your salespeople to build relationships and manage more of them.
Know more about customers and leads: Integration with LinkedIn Sales Navigator gives you easy access to profiles and insights. Discover new and better ways to gain introductions.
Boost your sales performance: Dynamics 365 gives your salespeople the insights, relationship analytics, and conversation intelligence they need to improve performance.
See new market trends: AI gives you insights into changing customer needs and competitive dynamics.
Identify risks in advance: See into conversations and spot where a deal is at risk. Then use Dynamics 365's coaching tools to help your colleagues take action to address any issues.
Boost your sales productivity
Simplify your work: Dynamics 365 helps you reduce routine tasks and makes suggestions on creating new records through its intuitive and interactive user interface.
Focus on growing sales: The solution includes playbooks containing proven sales techniques, and other helpful reference materials.
Find the content you need quicker: With its intelligent sales enablement capabilities, the software recommends appropriate content and training for salespeople.
Speed up training: Benefit from contextual guidance in each phase of the sales cycle with a business process user interface that reduces training time.
Improve planning and forecast accuracy: Your salespeople can generate intuitive projections including predictive forecasting.
Encourage accountability: Visualisation of deal flows helps you track and analyse changes to your sales pipeline.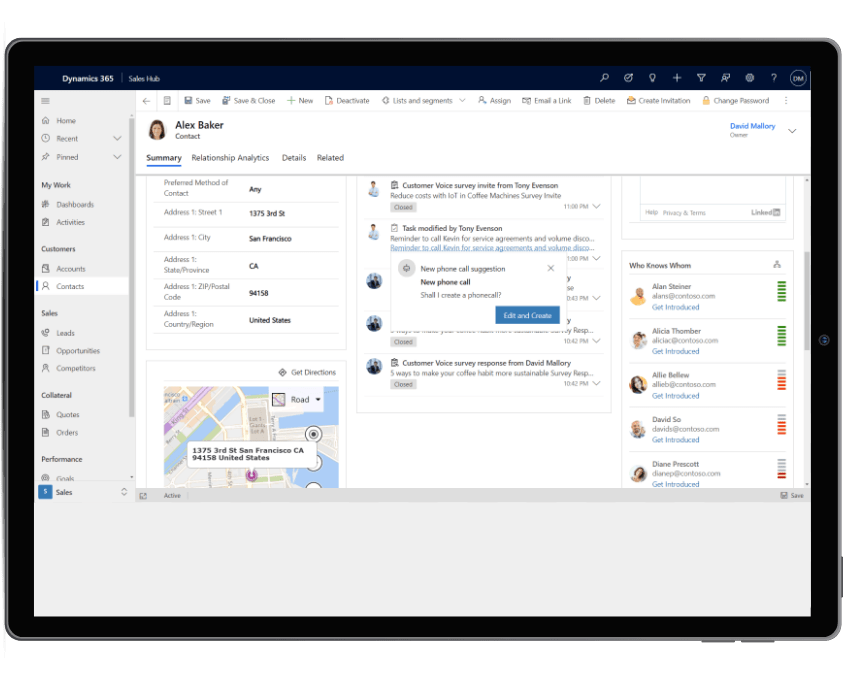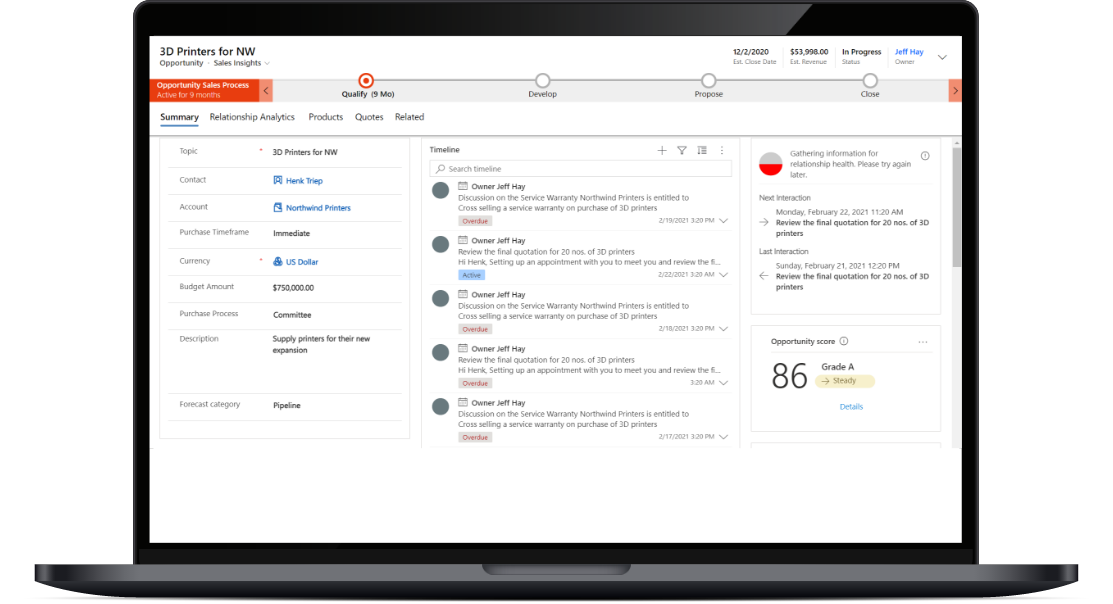 Dynamics 365 helps you see and understand more with:
A simple, unified interface: You can access all modules and apps in one place, in your Dynamics 365 portal. The cloud-based portal is available on any device from anywhere.
Embedded analytics: Analytics are crucial to driving smart decision-making across all levels of your business. Aided by Power BI, Dynamics 365 gives you access to real-time analytics. This allows you to easily view key performance metrics and identify patterns, revealing logical next steps for your business, all on one dashboard.
Easy integration: Alongside the basic functions, there are also countless opportunities for easy integration with other apps and add-ons. This helps you optimise your CRM experience in line with your business needs.
Customisable software: Build your CRM to suit your requirements and the scale of the project. Dynamics 365 also gives you the opportunity to expand as demand grows and the system matures, with over a dozen apps and add-ons available to you.
A common data platform: Your Dynamics 365 portal is seamlessly integrated with all your other Office 365 applications, including Outlook and Teams. This makes navigation easier and simplifies internal communications.
By helping you work more efficiently, Dynamics 365 frees up time for selling.
Coordinate sales and marketing more effectively: Everyone across your team gains visibility into campaigns. Prebuilt workflows deliver sales-ready leads automatically.
Enable collaboration: People in different roles and regions can work together, sharing customer data and documents from Microsoft Teams, the online meeting hub.
Minimise manual data entry: Scan and convert business cards into new records in Dynamics 365.
Make your workflow more connected and streamlined: Dynamics 365 works seamlessly with the latest mobile applications and popular tools such as Outlook, Excel, and SharePoint.
Speed up sales: With Dynamics 365 Product Visualize Preview, salespeople can help customers see your product virtually in their environment, building their confidence.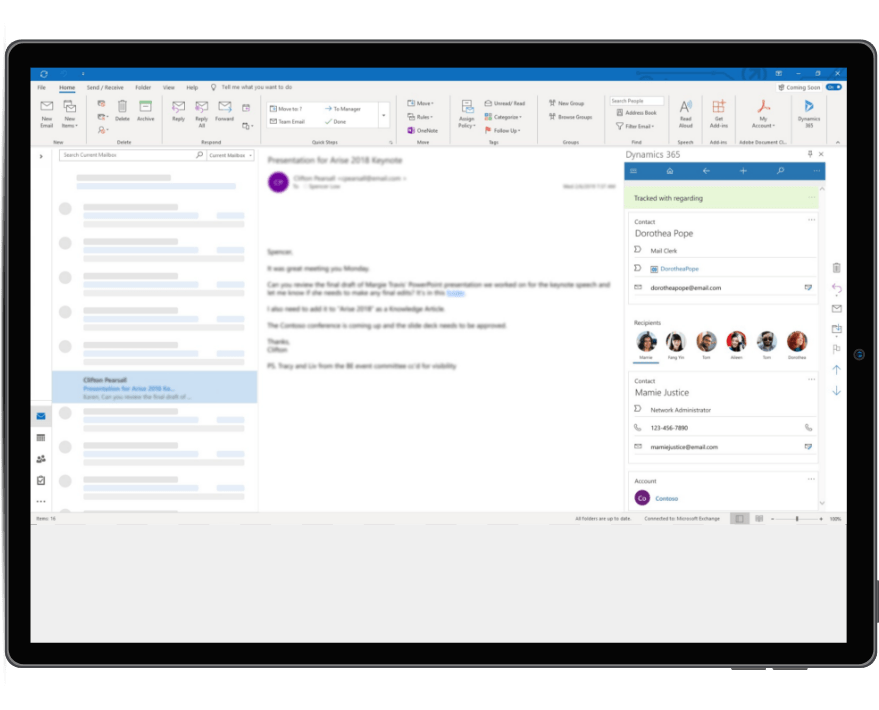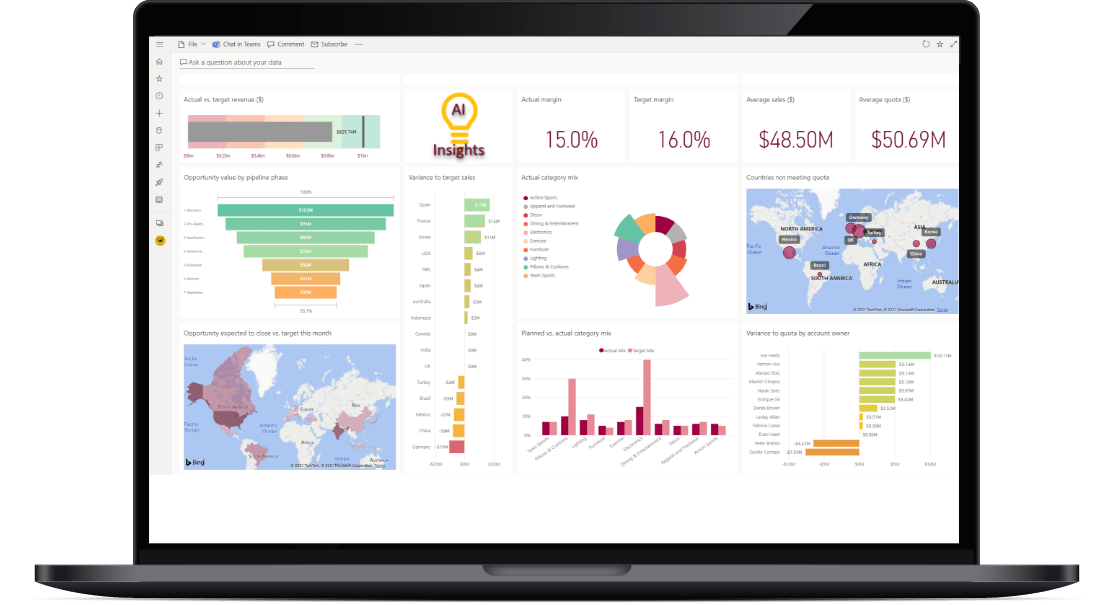 Expand your business possibilities
Get to market quicker: The prebuilt sales and AI applications can be adapted quickly to your needs. Dynamics 365 allows you to automate your workflows and analyse data and makes it easy for you to build custom applications with Microsoft Power Platform.
Keep your sales team sharp: Built-in AI delivers insights to your team. You can customise these to your sales process. No code is needed.
Improve the whole customer journey: Unify all the data from your marketing, sales, and service.
BOOK a DEMO for Dynamics 365 for Sales with a member of our team using our easy-booking system.
Explore other CRM modules
Dynamics works better together. Explore other CRM modules here: