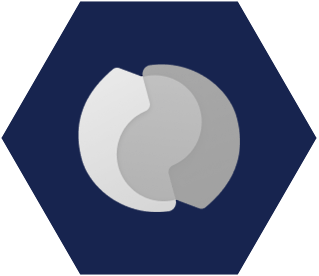 Dynamics 365 for Customer Voice
Dynamics 365 for Customer Voice helps you gather data to gauge real-time client satisfaction. Now you can be in control of improvements or changes required to operate at the highest level across your business.
Dynamics 365 for Customer Voice capabilities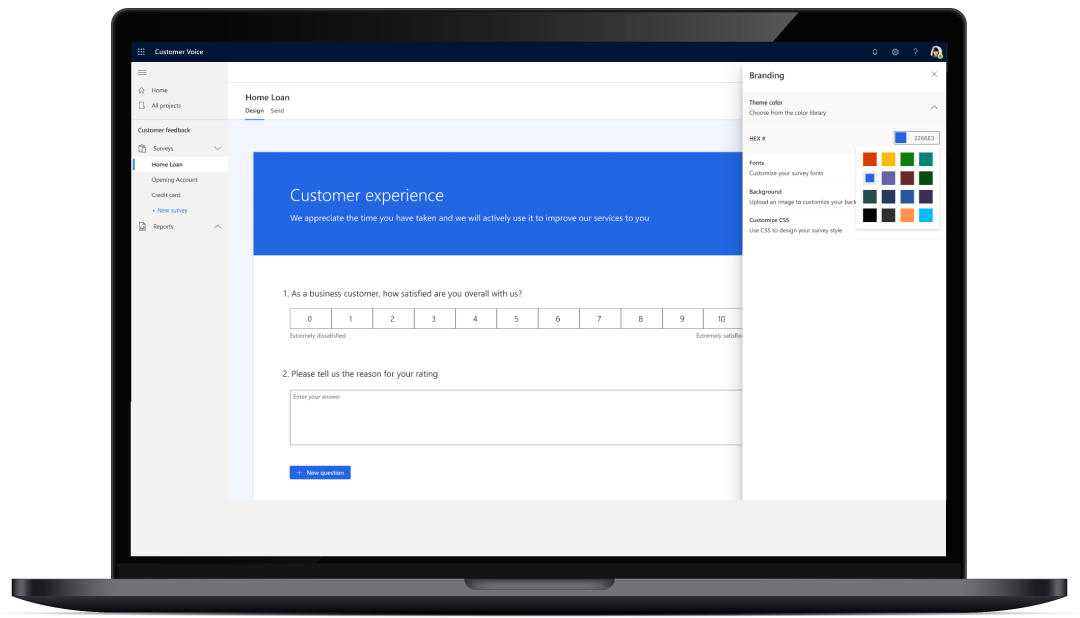 Know what your customers are thinking
Quickly collect client feedback: Collect and analyse client data and emotional reactions, in real-time throughout the customer journey to track business performance and customer satisfaction.
Create personalised surveys: Conduct engaging surveys using templates that include example question sets, and workflows, which include example reporting with the flexibility to customise with branding. Its service bots are always available, smart and fast.
Capture and leverage feedback across all customer channels: Keep track of your customer satisfaction across SMS, web, email and mobile.
Capture deep customer insights
Learn what influences customer satisfaction: Capture and track customer satisfaction metrics that are critical to your business success with Dynamics 365 for Customer Voice, such as Net Promoter Score to inform decisions on improvements.
Gain visual insights on satisfaction across the life cycle: Visualise your customer insights from the customer profile dashboard to enable more effective decision-making and relevant marketing.
Measure team performance: Identify areas of improvement needed to improve the performance of the client-facing team.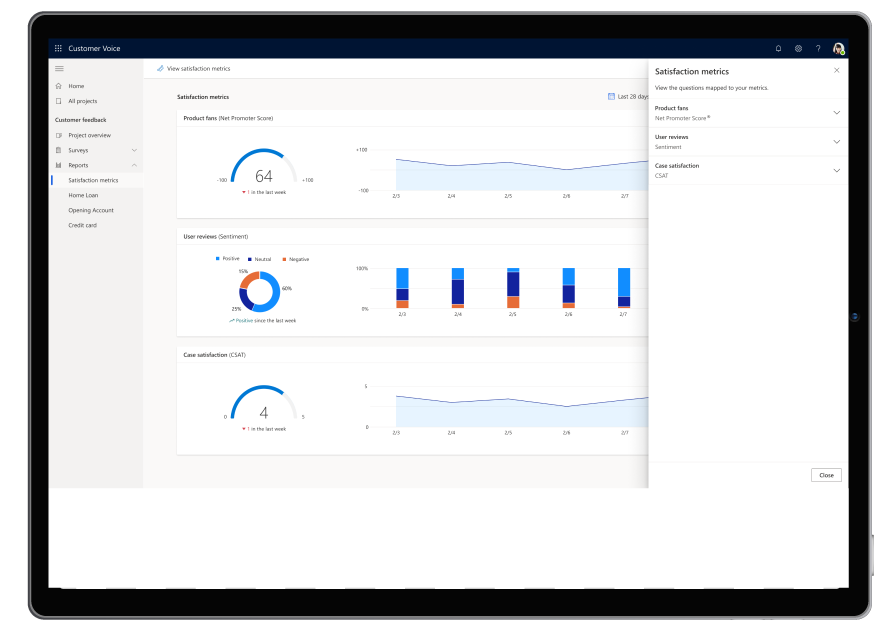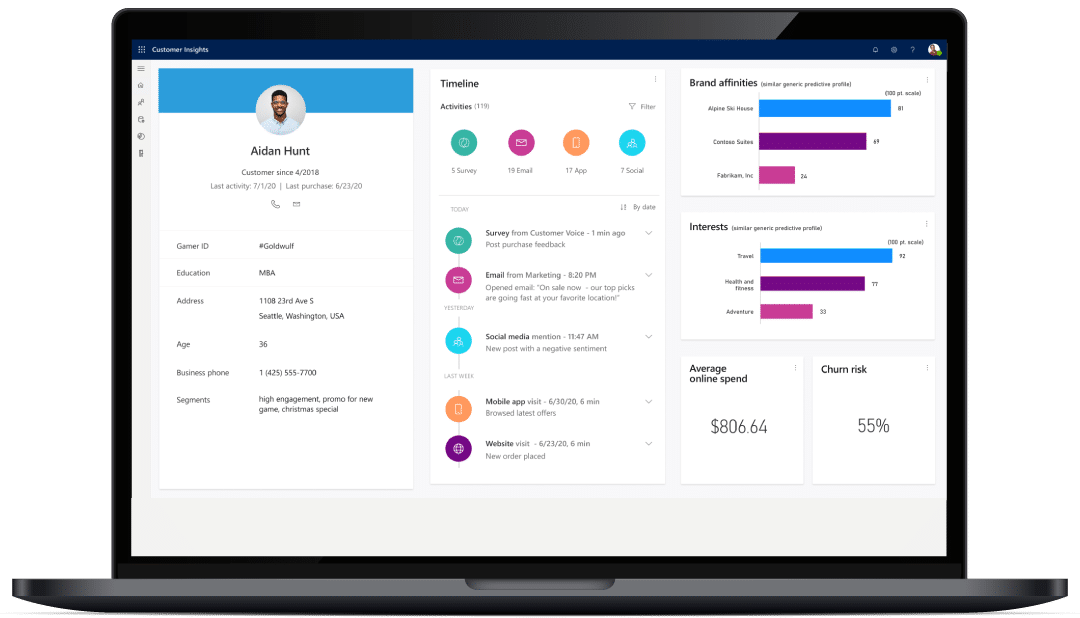 Remove siloed pockets of data across your business
Effectively manage your customer insights: collate feedback with customer data in other Dynamics 365 applications, including Power Automate, Power Apps, Power BI, Dynamics 365 Customer Insights, and Microsoft Power Platform.
Capture and share customer surveys across applications: Make survey data available across all your customer applications, such as Customer Insights and Dynamics 365 Customer Service.
Create a single view of your customer profile: Create a single view and understanding of customers in a unified profile view by using Customer Insights with Dynamics 365 for Customer Voice.
Use client feedback to enable quick decision making
Speed up response time: Collate real-time survey feedback and data from your customer applications to empower employees with customer insights
Automate notifications: Automate triggers within your business process to send automatic alerts to you when customer satisfaction is reducing.
Timely customer experience improvements: Continuously improve customer experiences with real-time follow-up suggestions to improve the customer journey.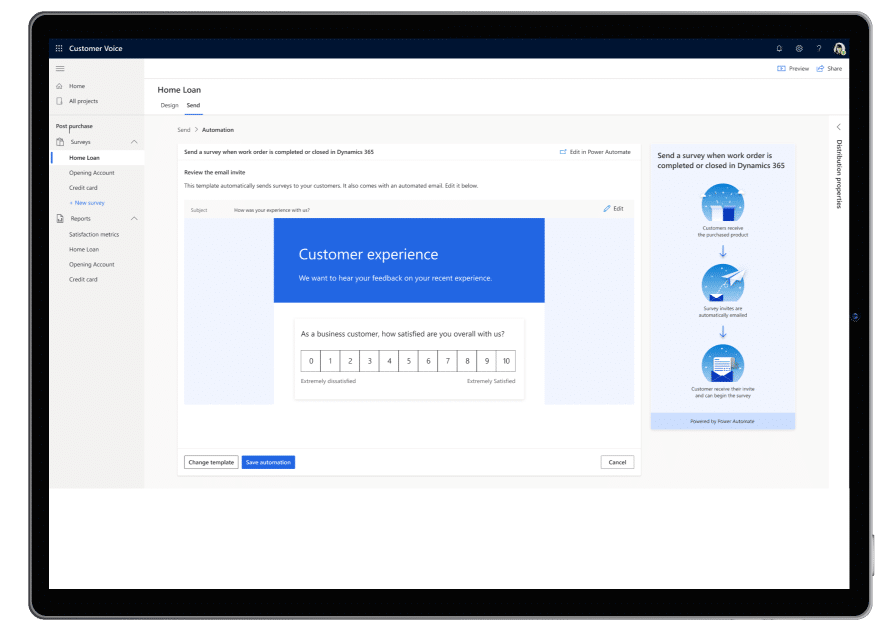 BOOK a DEMO for Dynamics 365 for Customer Voice with a member of our team using our easy-booking system.
Explore other CRM modules
Dynamics works better together. Explore other CRM modules here: