Dynamics 365 for Business Central
Dynamics 365 for Business Central is a comprehensive business management solution for small and medium-sized businesses. It helps you streamline your processes, make smarter decisions, and accelerate growth. It empowers your team to ensure business continuity, connecting service, sales, operations and finance departments to help them deliver results faster and adapt quickly to the needs of your customers.
Dynamics 365 for Business Central Capabilities
Grow and connect your business with Dynamics 365 for Business Central. This easy-to-use and adaptable software does everything you need a business management solution to do.
TrackingTrack how messages are received and prompt follow-up actions using marketing automation.
Integrated marketing processesPerfect for companies requiring more than basic email marketing, with all of your marketing tools in one place.
Build customer journeys Create nurture campaigns with actions being triggered as the recipients react, building rapport and brand loyalty.
Segmentation Ensure all of your communication remains personalised and relevant by segmenting your audience.
Lead scoring Make the most of your data in order to identify the most promising leads and notify you once they are sales ready.
Design emails Use a simple drag and drop editor to design your emails within Dynamics, including landing pages and forms.
Transition to the cloud faster: It doesn't matter if your business is using entry-level accounting software and legacy ERP systems – with Dynamics NAV, Business Central uses a shared code-base that makes moving to the cloud seamless. Once there, you can have a more productive model, with a single, comprehensive solution for managing finances and business operation.
Equip users to be productive: Users feel at home with the familiar look and feel of Microsoft Office. And they can benefit right away from the Business Central's integration with Office 365 and other Microsoft cloud services including Power BI – all helping to increase productivity.
Get an all-in-one solution: The software covers all aspects of business management: Financials, Purchasing, Inventory, Operations, Warehousing and Projects. Thanks to its flexibility, you can add capabilities quickly, either by applying customisations or using pre-built apps.
Manage financials effectively
Make decisions better informed: Get a complete picture of your business by connecting data across accounting, sales, purchasing, inventory, and customer interactions. Stay on top of financials with built-in Power BI dashboards charting your financial performance in real time.

Speed up financial close and reporting: Business Central enables you to close and report on financials quickly and accurately by streamlining accounts receivables / payables, and automatically reconciling accounts, all while staying compliant.
Forecast more accurately: Model and analyse data across multiple dimensions to refine financial forecasts. And use seamless Microsoft Excel integration to customise reports.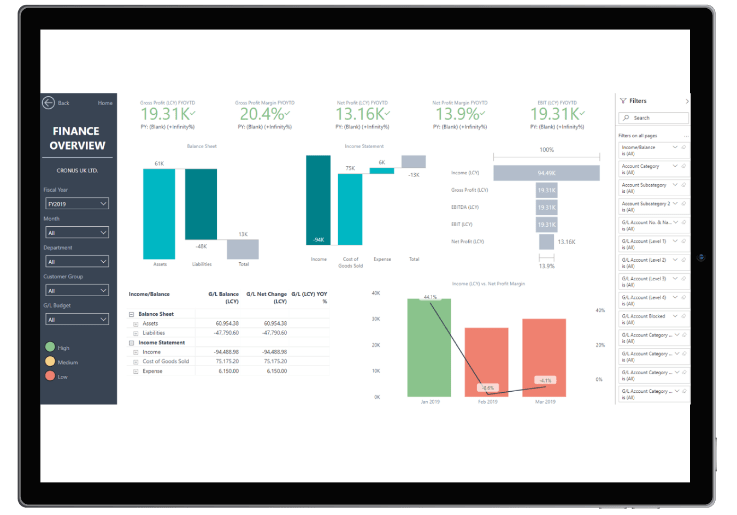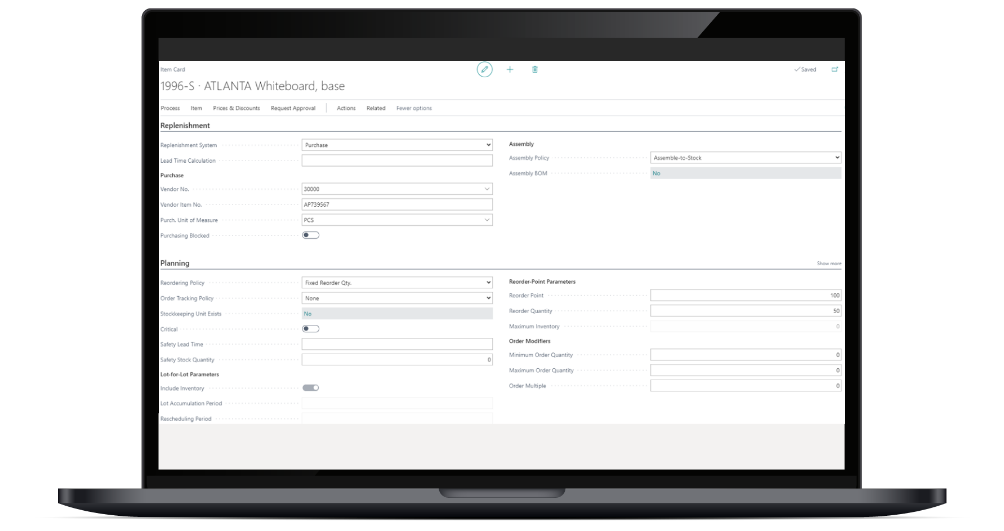 Benefit by automating and securing your supply chain
Improve inventory management: Use the software's built-in intelligence to predict when and what to replenish. With inventory levels updated dynamically, you can purchase only what you need.

Have fewer shortages: Automatically calculate stock levels, lead times, and reorder points so that you can maintain the right amount of inventory, and be able to suggest substitutes when ordered items are out of stock.

Improve profitability: Business Central makes recommendations on when to pay your vendors to use their discounts or escape overdue penalties. Also, it uses approval workflows to prevent unneeded or fraudulent purchases.
Optimise your business operations
Manage more proactively: Using sales forecasts and expected stock-outs, the software automatically generates production plans and creates purchase orders, helping you to manage forecasting and fulfilment more effectively.

Improve warehousing efficiency: Business Central gives you a holistic view of inventory so that you can fulfil orders more efficiently. In addition, by setting up bins based on warehouse layout and storage unit dimensions, you can track every item transaction and movement.

Achieve the highest possible output levels: The solution helps you improve production schedules and meet customer demands by calculating and optimising manufacturing capacity and resources.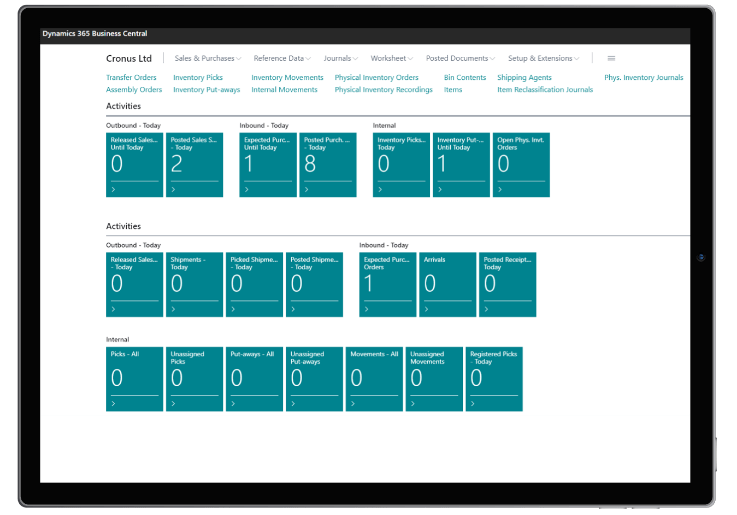 BOOK A DEMO for Dynamics 365 Business Central with a member of our team using our easy-booking system.
Explore Other CRM Modules
Dynamics works better together. Explore other CRM modules here: