Sage Integration for Dynamics 365
Increase the efficiency of your sales process by connecting your Sage Accounts to your sales process within Dynamics 365. This integration avoids the duplication of data and automates key parts of the process. Better connected processes and data mean you can generate invoices, track payments, store documentation and much more – all from one place.
CRM with Sage enables your team to gain a more holistic view of each customer journey and relationship. At the same time, it makes things easier for your team by integrating the sales and accounting functions.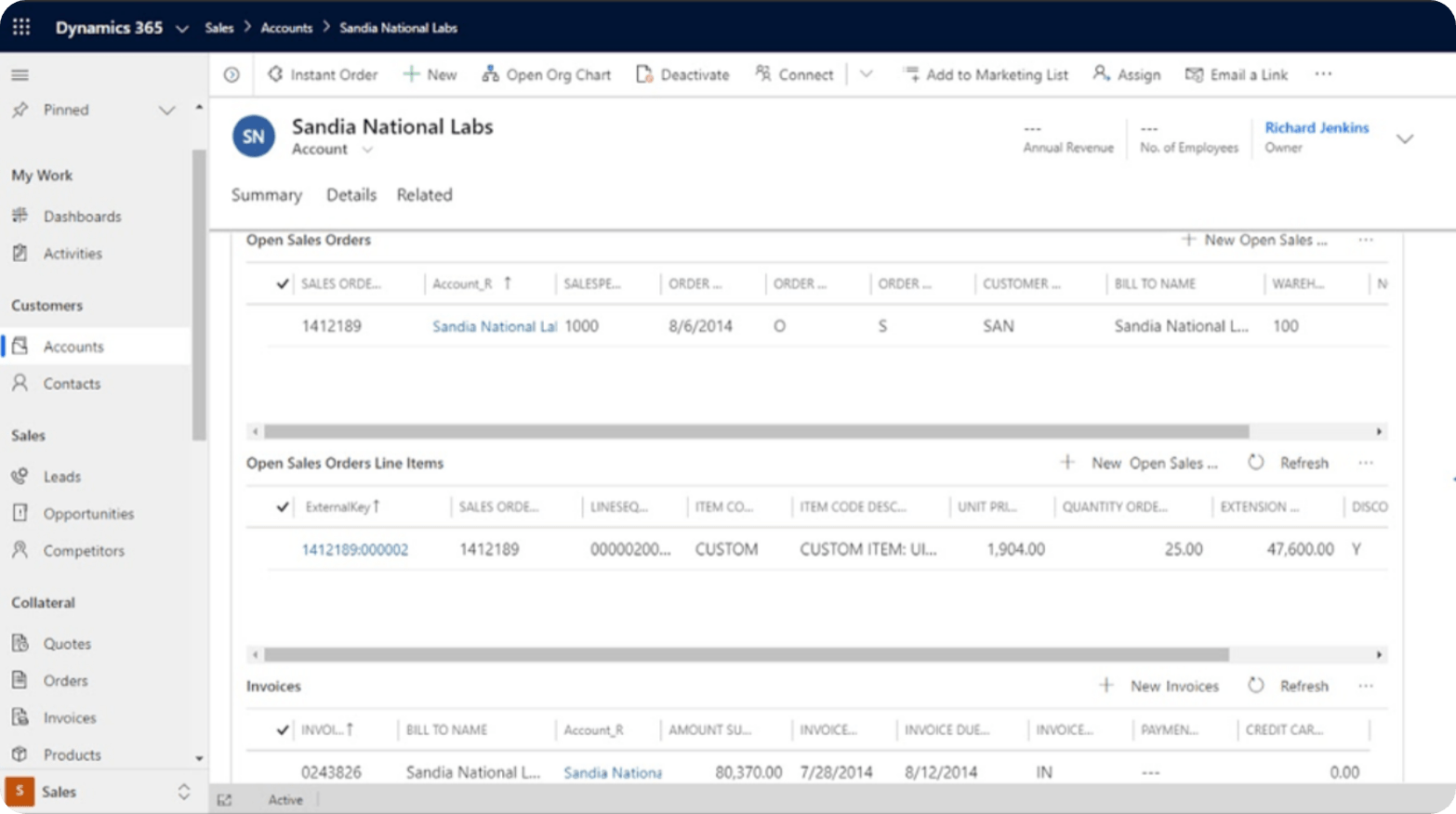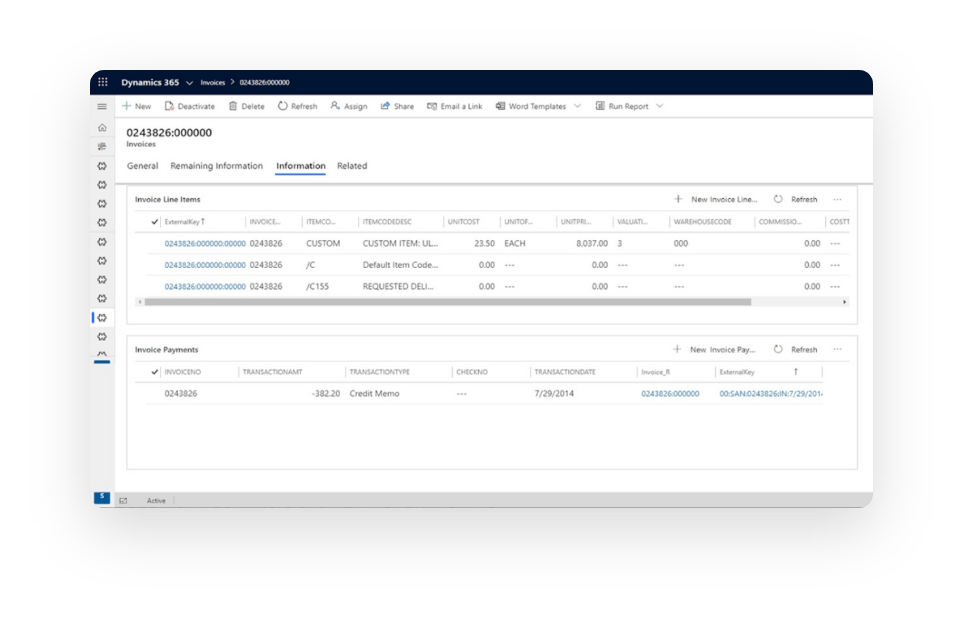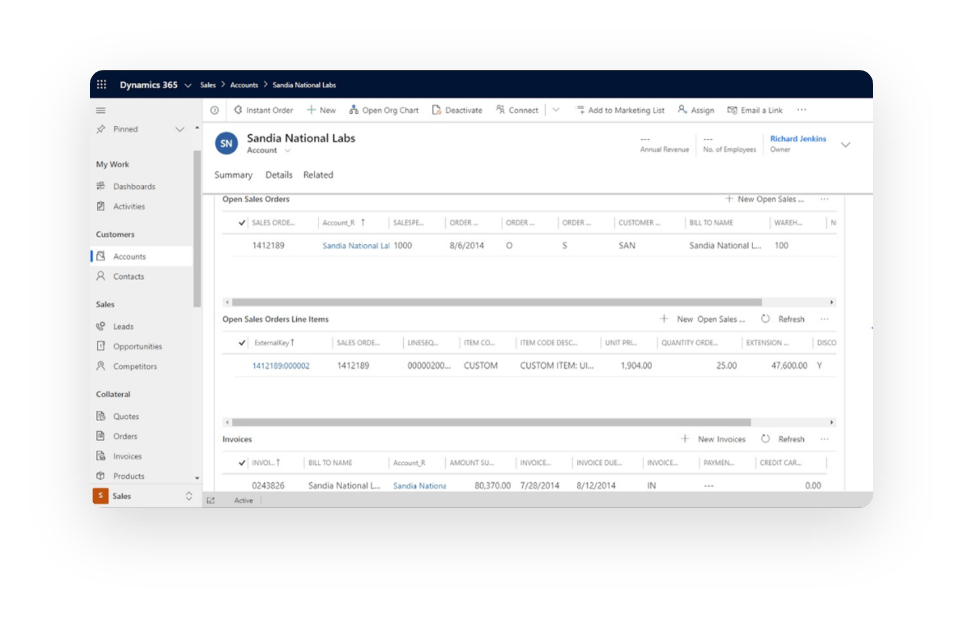 Integrate your Dynamics 365 CRM sales cycle with Sage 50C accounting
For greater efficiency, integrate your Dynamics 365 CRM sales cycle with Sage 50C accounting – instantly. Then, when you create invoices in Microsoft Dynamics CRM, they'll be automatically copied into Sage 50C, without anyone needing to retype them.
This integration will:
• Synchronise with Sage 50C, Xero or Quickbooks Online
• Copy Invoices and credit notes from CRM into the accounting software
• Synchronise and migrate data of customers and products, either way
• Calculate VAT as well as EU and Worldwide Tax
• Load the accounting invoice PDF, or add a link, into CRM
• Track outstanding Invoice amounts in CRM
• Track customer balances and credit limits in CRM
• Track product stock quantities in CRM
• Create purchase orders directly from the invoice item
• Provide support for nominal and tracking codes
Also, the billing module enables you to:
• Connect to more than one accounting database (multi-company)
• Process recurring or subscription invoices
• Deal with automated invoices from custom entities
• Automate invoicing, credit notes, purchases and payments with workflow
• Create invoices and PDFs entirely within CRM
• Integrate with payment gateways
Harmonise sales and accounting
With Dynamics 365 CRM sales cycle and Sage 50C accounting, you can:
• Scale your business whilst improving efficiency
• Automatically upload thousands of invoices to Sage 50C
• Be more accurate by eliminating data entry errors
• Optimise customer communication and finance monitoring at the same time
• Benefit from Sage 50C's excellent accounting and debt-chasing functionality
• Take advantage of Sage 50C's payment processing options, which include SagePay and GoCardless Direct Debit
• Connect the billing module to enable automation with recurring invoices and PDF production as well as credit notes, purchasing and payment gateways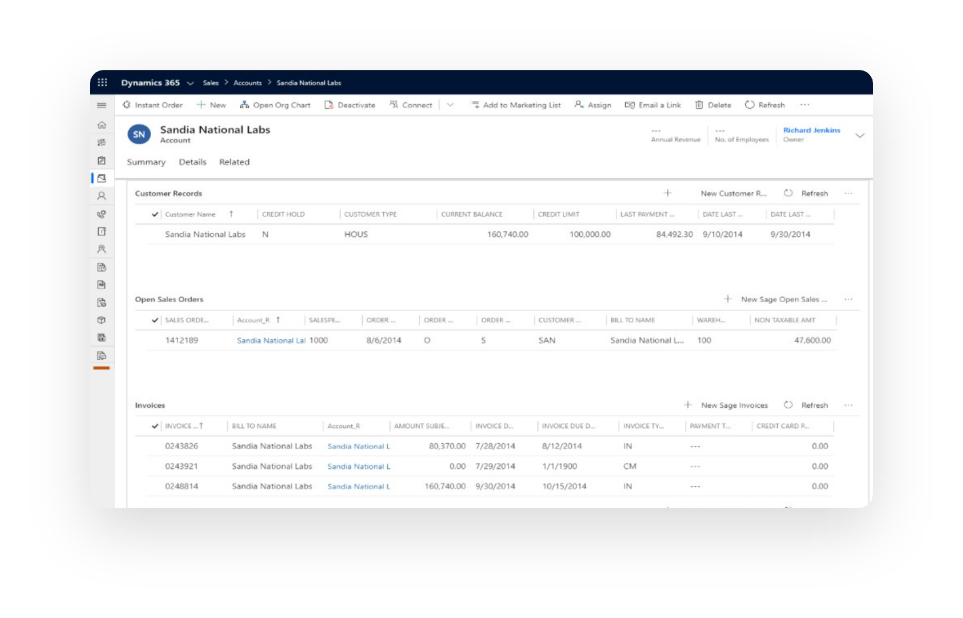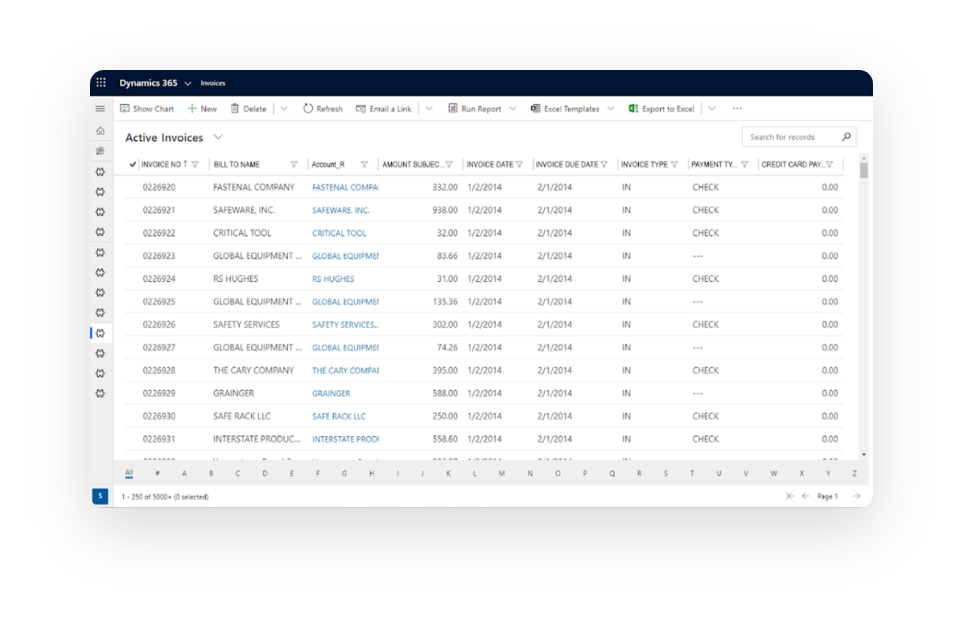 Who this integration helps
Microsoft Dynamics 365 CRM Connector for Sage is particularly beneficial for:
• Accounting teams snowed under following a successful CRM rollout
• Organisations who have complex billing requirements
• Sales teams who need to integrate with accounting quickly and accurately
• Teams needing to automate VAT calculation or who have European or multi-currency VAT requirements
• Producing and automating invoices in large numbers
• Boosting your accuracy and efficiency when invoicing
BOOK A DEMO with a member of our team using our easy-booking system.
Explore Other Dynamics Integrations and Add-Ons