The new "lite" project management solution 
Do you need a new or a better project management tool?
Do you need a project tool that integrates seamlessly with different systems?
Do you need a project management tool that has everything you need without the surplus features you wouldn't need to use?
Do you need a cost effective, easy to use, simple to implement project tool?
Are you an SMB with project management needs but without the budget to invest in bigger Project Management tools that often require other additional tools to operate optimally?
From our experience of working with over 850 SMBs, we have identified that sometimes SMBs need a project management tool that is truly tailored to their specific needs. Big enough to do what you need but small enough not to cost the earth to buy and implement.
The need to invest in one of the bigger tools that are available can sometimes limit SMBs in acquiring the project management tools that they need. Often Project Management tools have features that are surplus to requirements. If your business is looking for an easy to implement and install project management tool, then read on to find out more about Cloud9's Project Lite tool.
Many of our clients have their customer, sales and project delivery data in different places, meaning their teams are not communicating and lack a single view. Project Lite eradicates this issue as it collates data from different sources into one place no matter what CRM you are using.
...Introducing Project Lite - brought to you by Cloud9 Insight. Everything you need for effective project management at a fraction of the cost, delivered quickly, and with zero complexity.
So why invest in Cloud 9 Project Lite? 
Simply put, whilst Cloud9 Project Lite is not the only smaller scale project management tool available, it is the only tool available that you can fully embed with Microsoft Dynamics or Microsoft Power Apps.

All your data is one place: regardless of how you use your current CRM – you will always be using the same dataset.

Project Lite is a simple to use variant of the bigger project management tools that are available in the market – it still incorporates all the key functionality that you will need but at a fraction of the cost.

Vitally Project Lite can also be used as a stand-alone project management tool with the rest of the Microsoft Dynamics Modules.

With Project Lite you can be up and running in JUST 7 DAYS

Competitive pricing to fit your needs and budget
Book a call with one of our experts to work out the best Project Lite package for your organisation
Key features and benefits:
What functionality does Project Lite include?
Project Lite includes all these key features as standard:
Project management including deliverable workstream tracking

Account and Contact management

Project risk and issue management

Resource and time entry management

Outlook integration for email and appointment management

Activity timeline management

Standard automation for templating repeatable projects
If you are Dynamics 365 user then Project Lite Plus has these additional features:
Resource skills and scheduling board

Order and Invoice management for Project financials

Micosoft Teams integration for linked chats

Sharepoint integration for document storage
Project Lite gives you a single view of all your data - meaning easy integration and a seamless data flow from lead through to project delivery and completion.
In the Dynamics version, you can create and track financial records such as Orders or Invoices that relate to your Project.
Workstreams are set out to deliver the project in manageable chunks called Deliverables. The workstreams provide estimated versus actual time and cost analysis
Tasks are the individual actions that are delivereach deliverable. Tasks can be assigned to specific resources who can record the actual time worked against them.
Project Lite offers simple risk flagging and management including RAG status and track the tasks taken to mitigate a risk or resolve an issue.
Internal and External resources can be managed in Project Lite. Each resource can have skills and certifications associated to them as well as tracking their availability.
- A resource skills and scheduling board is available with the Dynamics version* 
Time entries can be submitted by resources online or via a mobile app. Time entries are reviewed individually or in bulk by the project manager ready for approval. A connection with Clockify is available to simplify time tracking**.
Dashboards and visual reporting are available across the solution and are easy to tweak and maintain by the user. Reports include RAG overview, estimated versus actual time and cost tracking.
As a native Dynamics 365 solution, Project Lite offers all the great ​Microsoft integrations including:
- Active Directory for single sign-on​
- Outlook for email and appointment tracking​
- Microsoft Teams integration for linked chats and conversations*
Dynamics 365 has native SharePoint and Teams integration allowing a single and secure area for document storage and collaboration.*
Project Lite offers comprehensive automation  to increase efficiency. Virtually any task can be automated, and the most common scenarios include:​
- Template Projects to speed up the planning and task allocation​
- Template Document to support proposals, change requests and sign-off​
- Workflows to notify resources and clients of project progression
*Only available with the Dynamics 365 version - ask us about  Project Lite Plus
**Requires a Clockify subscription
Want to find out more? Fill in this form and one of our team will be in touch: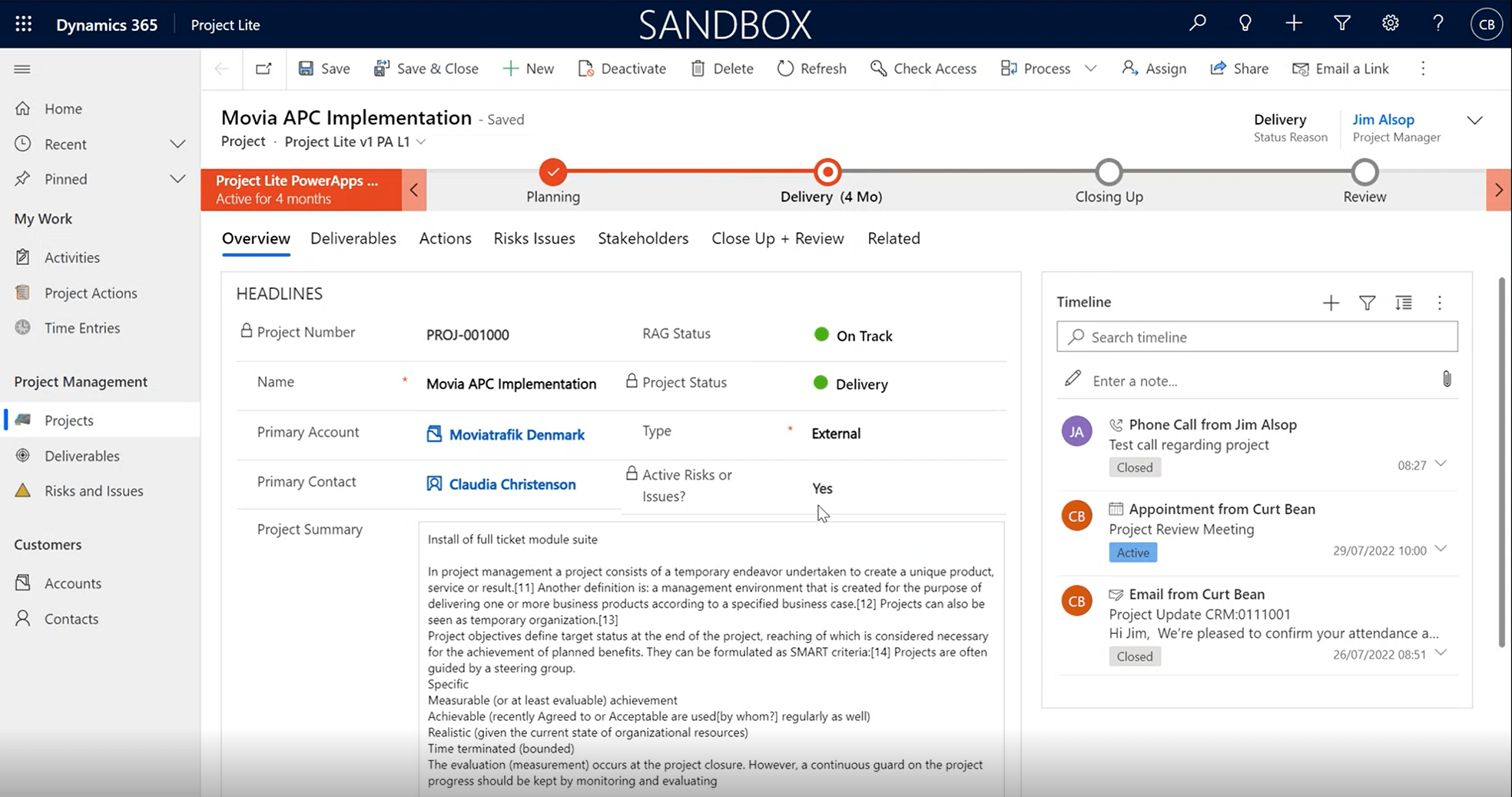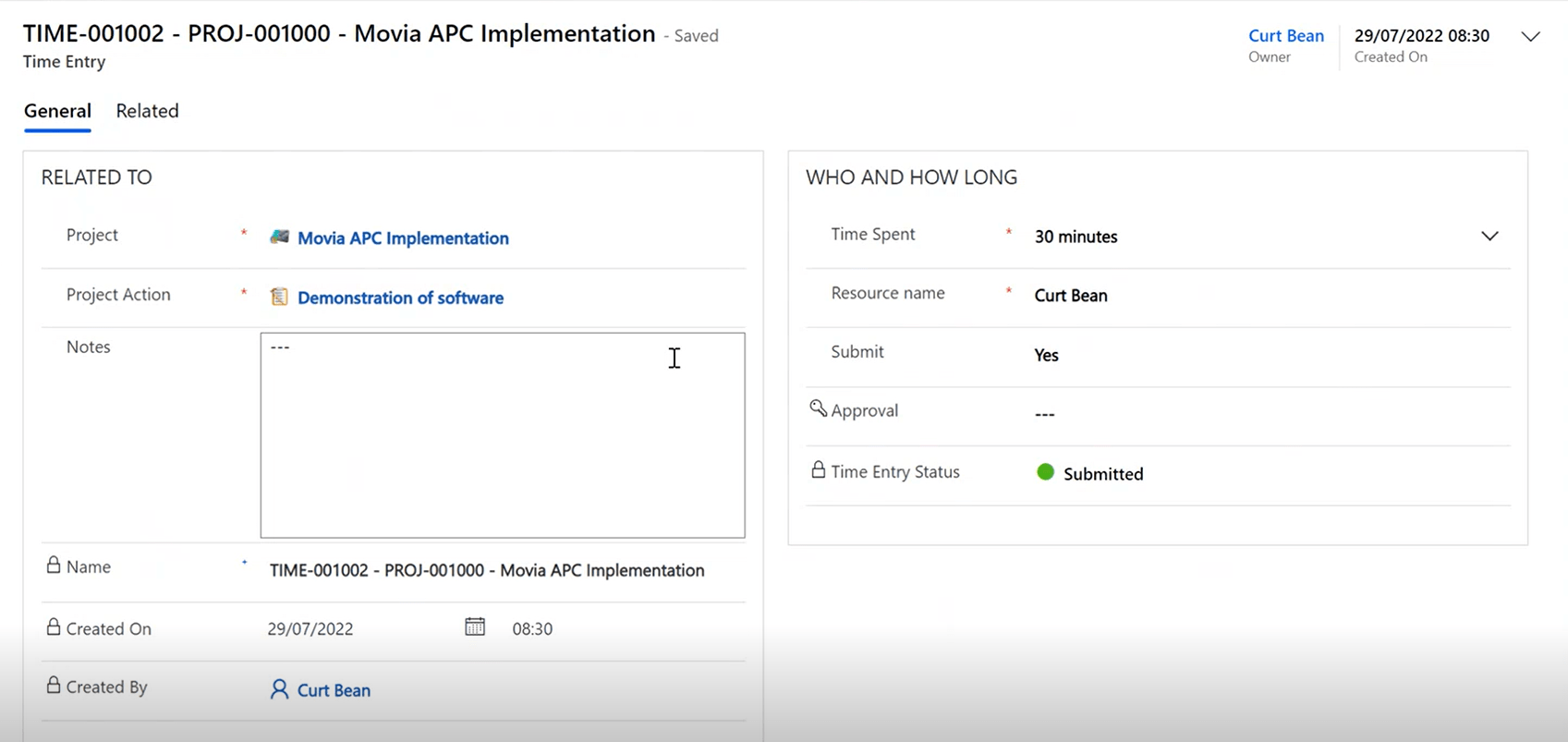 Explore Other CRM Modules
Dynamics works better together. Explore other CRM modules here:


BOOK a call now to discuss Project Lite with a member of our team using our easy-booking system.