Why Dynamics 365 CRM is Right for Manufacturing
You might be wondering why Dynamics 365 CRM is right for manufacturing businesses. The fact is this sector was particularly badly hit by the pandemic lockdowns of 2020 and early 2021. Supply chains were disrupted, workplaces physically transformed and seismic shifts in consumer behaviour emerged.
Coping with these changes, while struggling to meet demand or find new markets for their products, meant many manufacturers were forced to significantly modify operations.
A major business area that has required new thinking is customer relationship management. A CRM system, like Dynamics 365, can help manufacturers understand their sales leads better through a centralised customer database. Dynamics 365 is right for manufacturing because it makes it easier to identify qualified prospects and focus on the best opportunities.
Furthermore, it helps you know the status of sales leads in real-time without having to ask the sales team, and distribute leads to the right salespeople. That's a summary but there are many more reasons why Dynamics 365 is right for manufacturing.
Here are the 5 reasons why Dynamics 365 CRM is right for manufacturing firms
in 2022
Better 
customer journey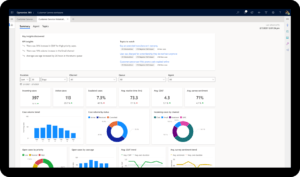 The manufacturing process doesn't stop until your customer is satisfied, be it the wholesaler, distributor or end user. One of your core strengths and competitive advantages as a domestic manufacturer is your closeness to market and the agility that gives you. Therefore, creating a better customer journey is the first reason why Dynamics 365 CRM is right for manufacturing companies.
The challenge
In a fast moving market you need to provide a fast response to customer demands. Relying on manual processes means you are more likely to miss those important enquiries and lose out on potential customers. 
The solution
A bespoke CRM with automated processes will save time and remove the element of human error. Also, it allows sales colleagues to look at available capacity so they can give clients and prospects reliable information on potential orders and timescales for delivery. 
In addition, whether the customer is a business or consumer buyer, manufacturers can create a standardised process for managing the journey from that person's first contact with their company right through to delivery. Furthermore, adding automation – such as quotes that generate sales orders and inform production schedules – can make the entire process much more scalable. Dynamics 365 also allows customer/client servicing teams to pull data on, for example, order history, shipping details or previous engagements at the moment it is needed.  
Better field operations

Manufacturing is an industry in which field reps and technicians traditionally spend much of their week out of the office. This is because they need to talk to new and existing customers to identify their needs and to explain how specific products and services can meet these needs. So, a better field game is our second reason why Dynamics 365 CRM is right for manufacturing companies.
The challenge
Sales forces can get overwhelmed with tiresome and time-consuming admin. They need to get that time back so they can spend it with their own teams and their customers to drive value.
The solution
Dynamics 365 allows you to launch an integrated solution for your field reps that helps them manage everything from their accounts and statements of work to order tracking and e-commerce. 
It used to be that field reps would have to go into many applications. With a good CRM, they can use a single application to simplify the way they do their jobs. All the data and observations that field teams capture on site visits can be simplified through Power Apps. This is a single suite of apps, services, connectors and data platform.
This means more than just easy access to their applications. In fact, it delivers insights and rich data for them to make decisions quickly. 
Better and more seamless processes
through tech integration

The beauty of a Dynamics 365 platform is its easy integration with other platforms, and its ability to grow and adapt alongside your company. Integrations are our third reason why manufacturing businesses should consider Dynamics 365 CRM.
The challenge
Perhaps you're using a few different systems within your company, but what if none of these systems talks to each other? Wouldn't it be better to have a platform that syncs with all your other systems, and even integrated with your website?
The solution
A CRM integration is the seamless connectivity between your CRM software and third-party applications. These integrations result in automated actions that expand the functionality of your software, eliminating the need to toggle back and forth between systems.
The benefits of integrating with Dynamics 365 software using the APIs include lower development costs, greater scalability, and faster implementations. 
With a cloud-based suite of services to help customers collect, organise, manage, access, and share data, it is a powerful platform. And it can be made more powerful by integrating it with other business applications or customising it to meet the organisation's specialised needs.
There are all kinds of apps that integrate with Dynamics 365. Here are some (but not all!) of the categories:
Marketing automation tools
Certain marketing tasks – for example, email newsletters or posting to LinkedIn – can be a drag on your time, if done manually. They can also be impersonal if executed in "one-size-fits all" manner, limiting effectiveness. Marketing automation software is designed to resolve these challenges, leading to happier, more engaged customer.
Document creation apps
Documents are crucial in every Dynamics 365 implementation. Whether you need to send sales or service documents, internal reports or contracts for signing, there are tools to help you streamline and simplify your document requirements.
Project management
There are many platforms and apps that plug in to Dynamics 365 to provide a solution for managing projects. The best provide a comprehensive view of the status of every project starting from the top down and combining that with bottom up usability and functionality. When you integrated these apps into your CRM, project managers, boardroom decision-makers, and frontline users can use them simultaneously.
Finance and operations
Dynamics 365 CRM connects to Microsoft's existing ERP solutions—Dynamics 365 Business Central for small and mid-market businesses and Dynamics 365 Finance and Dynamics 365 Supply Chain Management (formerly Dynamics 365 Finance & Operations) for enterprise businesses. You can also integrate the CRM to another ERP or financial solution that you prefer.
Here is a list of some of our favourite integrations
Better use of data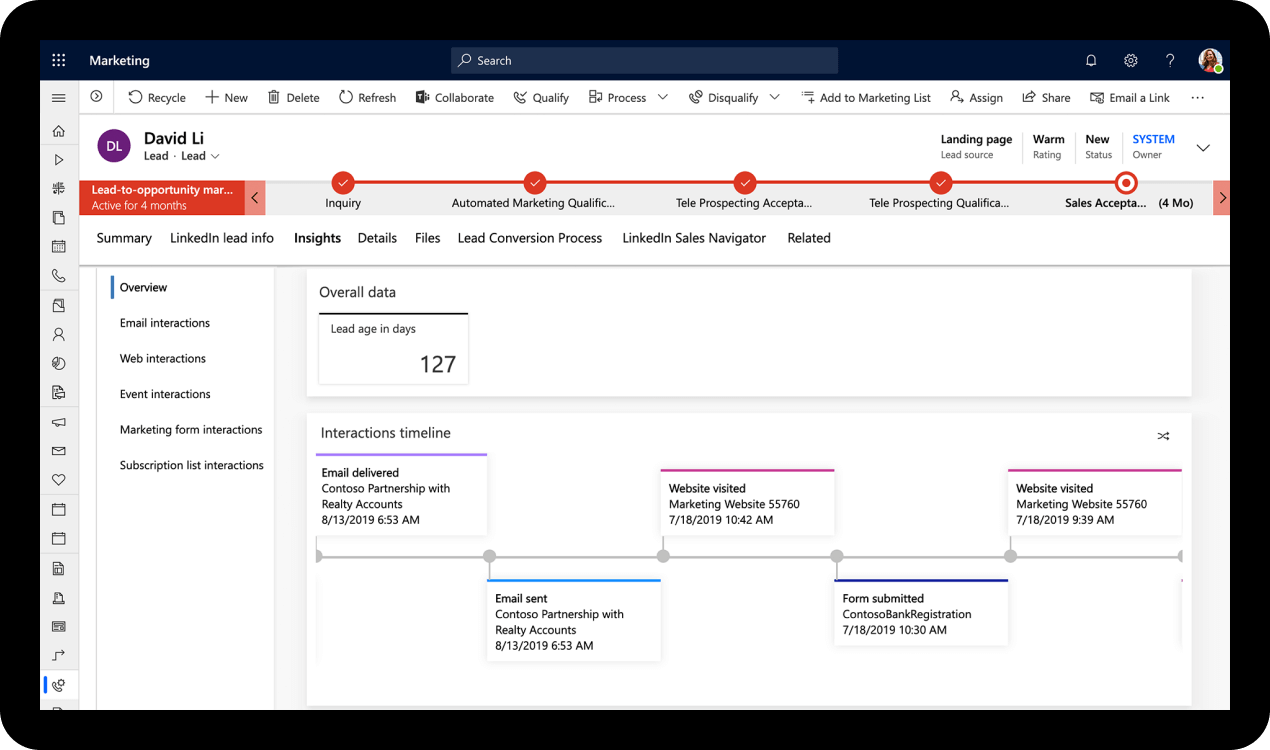 The sources of customer and client data available to manufacturing businesses are increasing on an almost monthly basis. From tools and equipment connected to the internet to social media, data can be used for a substantial number of business improvements. These include managing supply chains, evaluating risks, researching markets, or customising product design, to name just a few. Therefore, this is our fourth reason to use Dynamics 365 as your CRM system.
The challenge
How businesses use data is crucial. Yet many manufacturers regularly wade through endless documents and spreadsheets. In fact, they need quick, well-organised information that contains the data they need. 
The solution
Manufacturers need to have their key data and info at their fingertips, even when they're out in the field. Sometimes in the middle of the night. Managers need to plan, execute, and track operations, communications, innovations, and orders. And they need the data to be up-to-date and of peak quality. It needs to be uniform, whether it relates to sales, marketing, customer service,  field operations, HR, supply chain or any other process. In addition, it needs to be easily consumable and actionable. Not only that, it has to be simultaneously shareable and secure. 
Creating a single view of your business data on Dynamics 365, rather than storing it all on separate spreadsheets, will help you forecast demand for products, spot market trends, get better insights on your customers and market to them more strategically. 
Better profit
s!
Our final point about why Dynamics 365 CRM is right for manufacturing is possibly our most important. Through economy of means, secure data, and real-time information, companies can increase profits. Moreover, you can reduce or hold down costs, and boost market share. When all's said and done, these are the real returns on investments in your CRM system.
The idea behind all the integrating, streamlining, and improving above is to achieve that ROI. CRMs make technology experiences within manufacturing businesses quicker, smoother, and more relevant for the customer or client. A happy customer is, after all, a loyal customer. 
Find out how Dynamics 365 could work for your manufacturing business.
Not sure where to start? Get in touch
Get the latest Dynamics 365 news, blog updates, webinars events and invitations.