How CRM Systems Stimulate Growth in Manufacturing

8

min read
A customer relationship management (CRM) system can help stimulate growth in any manufacturing business. Whether you manufacture a commodity or a made-to-order product, a CRM system will help you get ahead of competitors. Before we take a look at why, let's remind ourselves some of the common issues that prevent growth in manufacturing.
Common issue #1: Disorganised and disparate data
If you've ever struggled to find information on the contact history of  an important client, you'll understand this problem. Many manufacturing businesses find themselves wading through documents and spreadsheets when what they need is quick information that is well-organised, easy to find and contains the data you need. Accordingly, tackling this issue is a major part of how CRM systems stimulate growth in manufacturing firms.
Common issue #2: Poor sales forecasting
Manufacturing businesses need to consolidate data gathered from multiple sources and use that data to predict future sales accurately. Yet many simply don't have the capacity to analyse past sales trends and habits, predict achievable sales revenue, and plan for future growth. This is the second key issue that CRM systems address to stimulate growth in your manufacturing business.
Common issue #3: Poor remote working
In the always-on, 24/7, global economy we now live in, it's not good enough to simply close operations and communications outside of the traditional 9am-5pm working day. Similarly, your colleagues often need to work from home or get their hands on key documents if they are off-site. Often they need to be able to do this on the move, which means using smartphones and tablets, rather than laptops. Your customers may be in different time zones, requiring late night or early morning communications outside of office hours. None of this is possible at businesses where data is held only on-site and is not accessible remotely.
Common issue #4: Lifeless and irrelevant reporting
Managers at manufacturing businesses often have to attend several meetings a day. This can mean they need to consume and digest information very quickly, sometimes on the move. The last thing they need is to be presented with dull, text rich documents that are based on old data and can't be shared easily with others. What they need is the ability to produce custom reports with charts, graphs, and other visual aids that look clean and professional.
Common issue #5: Unimpressed prospects, customers and clients
If you can't communicate easily with your prospects and customers clients, then you are likely to lose orders. Yet this is the situation in many manufacturing businesses. Employees are unable to message, or email contacts from a single location. They can't easily access a log of all previous interactions or a purchase history that would help address the contact's questions or concerns.
Stimulating Growth in Manufacturing With a CRM system
If you've experienced any of the issues above, you'll know that, eventually, they impact the bottom line. UK manufacturers often already face a steep challenge from competitors on costs. This can be due to the cost of labour and resources as compared to overseas competitors. Or more local competitors undercutting your business with lower quality products.
A CRM can help streamline your business operations so your teams can get more done in less time.
The cost of doing nothing
Failing to simplify and optimise business operations can result in overly complex processes. Moreover, costly implementations of production management software can have a detrimental effect on the company's desired ROI.
Deploying CRM in the manufacturing sector can give manufacturers detailed and useful insights about operations, inventory management, order processing, warehousing and distribution chains.
Having an intelligent supply chain can deliver phenomenal results as it empowers firms to manage production schedules. Moreover, it also lets you maintain materials supply and move products quickly from the site of production to the market.
That's the summary but now let's get specific about the areas a CRM system, like Microsoft's Dynamics 365, will help you streamline and improve.

A global view of supply chain management
Firstly, a good CRM will give you a view of the whole supply chain, whether you manufacture products in-house or use sub-contracters. It will also support an array of manufacturing modes, including engineer-to-order, make-to-order, make-to-stock or a mix of two or more of these. The CRM should also help you identify and see off any tricky issues before they arise. Dynamics 365 deploys forecast netting, planning and soft allocation tools to reduce the likelihood of inventory surpluses or shortages. With its ability to integrate with the tools you are already using, Dynamics enables you to continue using the forecasting tool of your choice.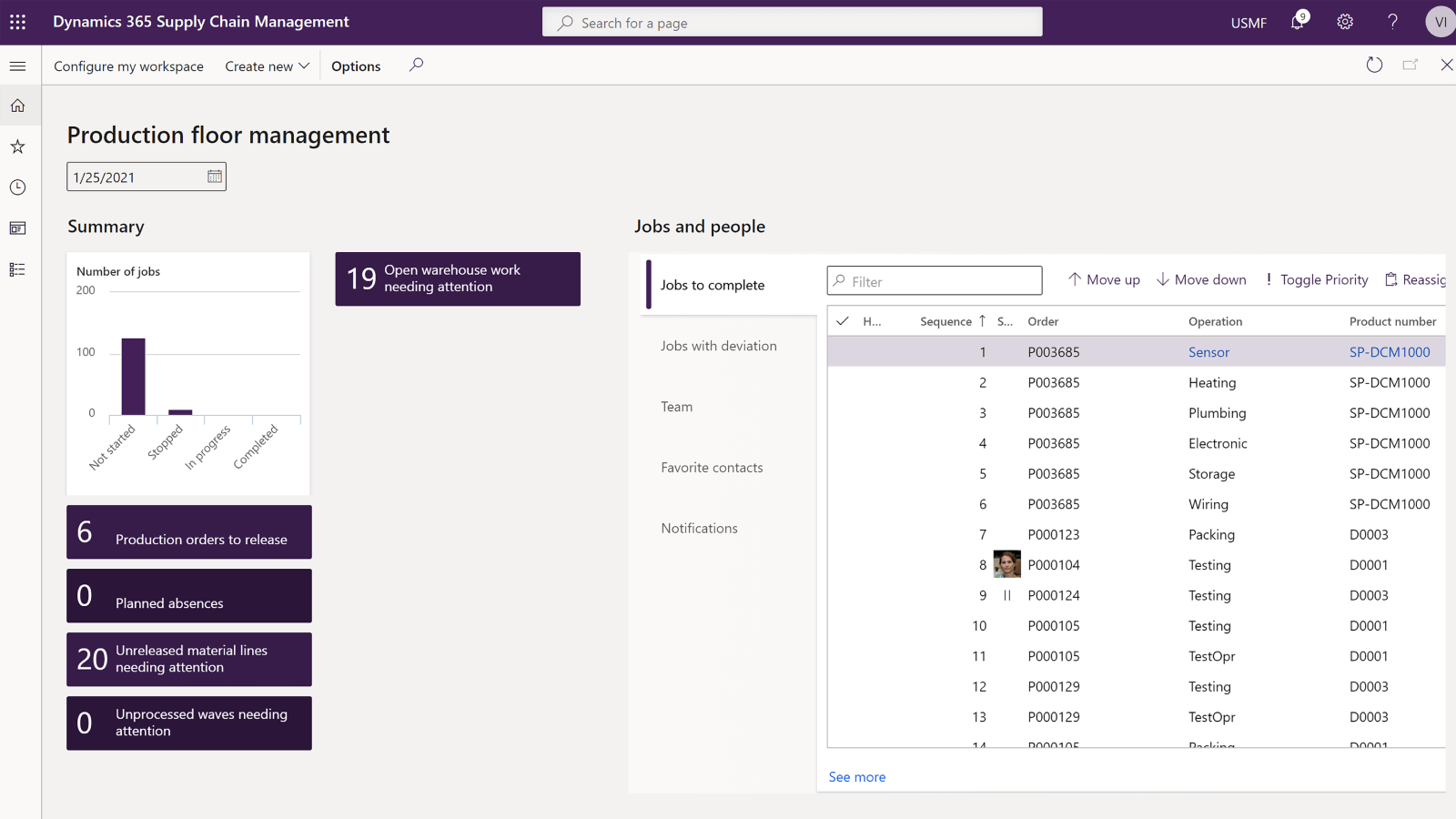 Production management at your fingertips
Losing sight of the levels of materials and the rate of consumption in your production process can disrupt the smooth running of the whole operation. A CRM system will help you track inventory in real time and accurately plan the supply of materials into your business. It will enable you to plot out shop floor routes that can track a work order through the whole process. It will enable you to manage inventory and demand with detailed workbenches and master planning tools that are both flexible and sophisticated.
Single-Solution Channel Management – so you can do more
With a single solution deployed across all channels, your CRM system will enable you to enjoy a simple commerce engine. This is regardless of whether orders are coming in through the sales team, EDI, or your e-commerce website. You will be able to track seasonal financial performance and customer information across all channels. And you can do this in real time by operating in a single database. You can accommodate unique customer requirements for EDI, customer credit management, sales order handling, and customer transportation planning from within the single solution. Dynamics 365 provide estimates and accurate quotes to customers in real time based on visibility into operations. It also enables you to collaborate with customers and vendors with deep integrations to Office 365.
Better business intelligence
Dynamics 365, gives you deeper insights into your data with Power BI. This easy-to-use business analytics service connects with your data. It then provides interactive visualisations and valuable business intelligence – all in a unified, scalable platform. In addition, Power BI provides you with interactive data that helps you with everything from identifying and nurturing promising leads, to closing deals. Your business can maximise its data to build a data-driven culture. This helps you achieve long-term sales success by generating sales pipeline and forecast reports for your team. Crucially, you will quickly uncover trends across manufacturing control systems and transportation management enabling you to spot opportunities to generate revenue. You will gain easy-to-understand visual insights into areas such as production and product life cycles with dashboards, planning workbenches and manufacturing-specific KPIs. And all of this on any device at any time!
Customer experience
Above all, your growth requires careful management of your reputation. Therefore, your ability to give a high degree of personalised service is crucial. What's needed is a real-time understanding of what your customers want. In addition, you need to know how they're interacting with your products and services as and when that data is available. Which is usually all the time!
If you understand your customers' needs, this will help your team pay attention to the things that make them happy. For example, it might help you to design the product innovations they want. Or to change your pricing strategy or deliver the content they need to get closer to purchase.
Data will enable you to do good things!
Like track usage and understand the factors in your customers' purchase decisions. Or their decisions not to buy! In other words, you can build user journeys that better suit your customers' needs by placing them at centre stage
When you know more about what makes your customers tick, you can use a CRM, for example Microsoft's Dynamics 365, to automate marketing and sales processes, customer emails, lead management, task management and sales reporting. Accordingly, this will give your customers even more of what they want!
Summary: six key ways a CRM system can improve growth in your manufacturing business
A CRM system:
Enables a more collaborative and profitable partnerships with suppliers.
Empowers your employees with critical business intelligence and collaborative capabilities.
Manages production orders, bills of materials, supply planning, and capacity requirements planning.
Increases visibility into your entire supply chain landscape.
Accurately forecasts sales to predict future sales and avoid inventory shortage.
Plans rush orders immediately from the sales order and modifies orders easily at any point in the production cycle.
These innovations boil down to converging your digital information technology (IT) and your operational technology (OT). By doing do your manufacturing CRM will help you achieve greater growth. This will be a major goal of manufacturing businesses of the future.
Not sure where to start? Get in touch
Get the latest Dynamics 365 news, blog updates, webinars events and invitations.