A Fresh Perspective: Cloud9 Insight's Nine-Day Working Fortnight
Heard of the four-day working week? 
How about the nine-day working fortnight? If you could provide your employees with extra time to create valuable memories with family and friends, pursue their purpose and still arrive highly motivated and revitalised on Mondays, ready to deliver exceptional customer experiences… wouldn't you do it too? You'd be mad not to. Recently, plenty has been said regarding the four-day working week, from news of innovative banking corporations like Atom Bank taking the plunge, to the country-wide 4 Day Week UK Campaign, organised by 4 Day Week Global and Autonomy. Even Cloud9 Insight's local University of Sussex has addressed the restructuring of traditional working methods; I joined Brighton Chamber to speak about the matter.
Most four-day week plans are currently theoretical; ours has already been implemented, with resounding success.
Cloud9 Insight created its own version of the nine-day working fortnight.
Between July and September, Cloud9 Insight trialled an innovative alternative to the much-discussed four-day working week. For just an extra half an hour worked every Monday to Thursday, employees are rewarded with every other Friday off – paid – and a dedicated day per fortnight to focus on Strategy, Innovation, Learning, Charity and Community: we call them SILCC days. Simply put, we identified an opportunity to innovate and improve not just our employees' work/life balance, but their prospects, too. The nine-day working fortnight does just that.
Interested?
Read the report in full and head to Cloud9 Insight's Culture page right now to find out more about the company's myriad innovative benefits.
What's more, with extra fortnightly days off, Cloud9 Insight's annual leave quota now stretches to the equivalent of an unprecedented 69 days; it may sound too good to be true, but the reality is it's a benefit employees are proud of. Here are just some of the stats from our new report detailing how it went; of course, if you want any extra information, please don't hesitate to get in touch.
The pattern of month-on-month growth held firm throughout the trial.
—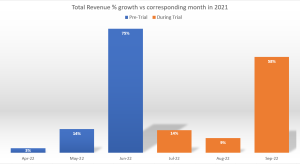 Cloud9's upward trend in recurring revenue also continued during the trial.
—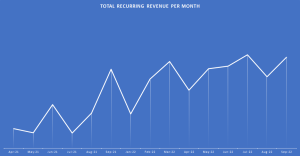 Average satisfaction score (0-5) in 2022. Clients were asked to rank Cloud9's Customer Service Team out of 5, with 5 as the best.
—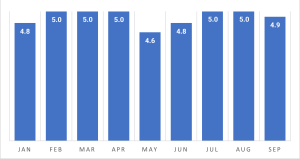 —
What's more, thanks to SILCC days, extra time has been put into Research & Development since the start of the trial; a proportion of this number can be reclaimed from HMRC. It's yet another financial benefit; we're putting our best foot forwards to improve every aspect of the business.
Want to know more? We'll be returning to the topic in the coming weeks, so make sure to check back to the Cloud9 blog regularly.
Find out more on Cloud9's Culture page. and don't forget to download Cloud9's report on the nine-day working week right here.
Of course, Cloud9 Insight is always on hand, with our comprehensive suite of CRM tools too; if you need help of any kind, don't hesitate to get in touch.
Get the latest Dynamics 365 news, blog updates, webinars events and invitations.