How to integrate Microsoft SharePoint with Dynamics 365 – Cloud9 Product Insights

4

min read
Welcome to Product Insights. A new series of articles from Cloud9 designed to inform and inspire the way you work with your Microsoft Dynamics 365 CRM. Today we're covering one of the most versatile and widely used Dynamics365 integrations, SharePoint.
Why Dynamics365?
With Microsoft Dynamics 365 CRM, you can leverage your data to optimise your sales performance. It helps you to find and engage your best prospects, build lasting relationships, and deliver personalised experiences. And you can tailor it to your specific needs with more than a dozen apps, add-ons and integrations.
If you want to begin your digital transformation and unlock the full potential of CRM in the cloud, we are here to assist you throughout the process.
Why SharePoint?
SharePoint is a platform for sharing and managing content, knowledge, and applications in your organisation. It can help you:
Create an intranet and team sites for communication and collaboration.
Store and work documents with metadata, versioning, and co-authoring.
Automate business processes with workflows.
Use social features, such as blogs, forums, and newsfeeds.
Access your information from any device and secure it with encryption and permissions.
Why is Dynamics365 the perfect platform for SharePoint Integration?
Dynamics 365 is the perfect platform for SharePoint integration because it combines the power of a CRM system with the flexibility of a file organisation tool. By integrating Dynamics 365 with SharePoint, you can:
Improve your security and access control by using SharePoint's encryption and permissions features.
Connect your data and documents across different Dynamics 365 apps, such as Sales, Customer Service, Customer Insights, and more.
Reach your customers more effectively by sharing relevant documents and information with them through SharePoint.
Manage your documents more efficiently by using SharePoint's metadata, versioning, co-authoring, and workflow capabilities.
Collaborate with your colleagues more seamlessly by using SharePoint's social features, such as blogs, forums, and newsfeeds.
If you'd like to find out more about how your organisation can start making the most of either of these services, get in touch with our team here at Cloud9 Insight. Alternatively, suppose you're an existing Dynamics user looking to make the most of your new system. In that case, we have a guide to Dynamics365 and SharePoint integration from a more technical point of view, as part of our Product Insights series.
What are Product Insights?
Whether you're just starting your Dynamics journey, or running your practice, these articles are designed to shine a light on features and best practices that can support your team. They're brought to you by Dynamics experts, specifically the friendly faces behind our highly accredited Customer Success Team (CST).
Our expertise is what sets us apart here at Cloud9 and the CST are a huge part of this. So, we're spotlighting their insights in this new series. This article comes courtesy of Client Success Specialist, Jefferson Elsdon who has written his guide to integrating Dynamics 365 with Microsoft SharePoint.
How to enable Dynamics 365 SharePoint Integration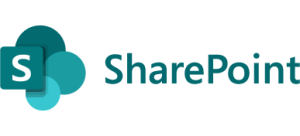 Microsoft SharePoint is an extremely useful tool for collaborating across an organisation.
As a prerequisite to enable SharePoint integration in Dynamics 365, it is necessary to have a Microsoft 365 subscription and a SharePoint Online subscription.
Please also be advised that you must have already created a SharePoint site location within SharePoint, and, if you require a separate location for each entity (table), a separate site will need to be created for each of them. For more information, click here.
It is possible to integrate Microsoft SharePoint with Dynamics 365 by following these steps:
Log onto the Admin Centre for your organisation. This can be accessed by searching for admin.powerplatform.microsoft.com in the URL bar or click here.
Select the production environment for your organisation.
Select the 'Settings' button on the ribbon:

From the settings page, select 'Integration' and then 'Document management settings':

In 'Document Management', select 'Document Management Settings' again:

The following pop-up window will open: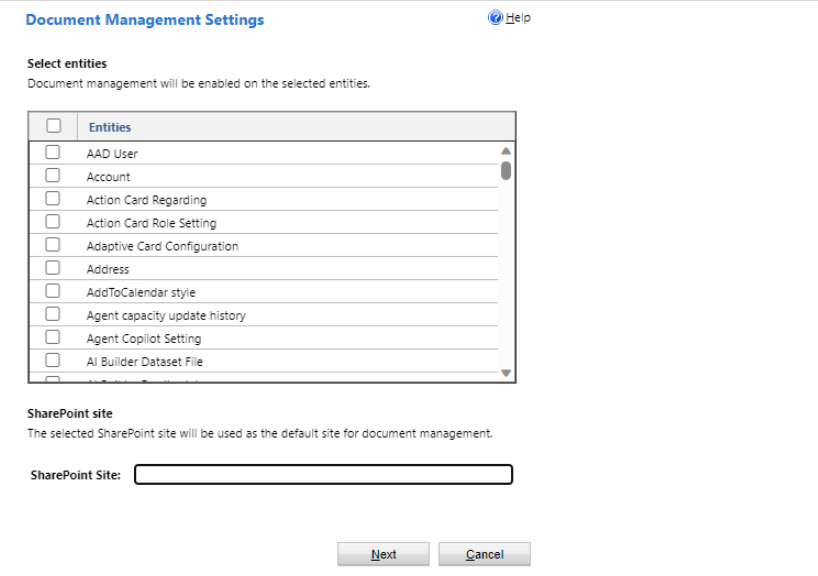 Select the entities (tables) in which you want to enable SharePoint and paste the URL for the SharePoint site into the 'SharePoint Site' field.
Untick the 'Based on entity' checkbox:

Select 'Next' and then 'Finish'
The selected entities (tables) will now be integrated with SharePoint.
Please be advised that, before enabling SharePoint integration, you must have the System Administrator security role or equivalent permissions in Dynamics 365.
For further information, please click here.
Get the latest Dynamics 365 news, blog updates, webinars events and invitations.