eBook: "The Seven Deadly Sins (When Implementing Your CRM Project)"
So you're thinking about implementing a CRM system in your business? There are some significant risks you need to start thinking about today.
Download our eBook now to discover what those "Seven Deadly Sins" are and learn the actions you can take immediately to prepare for them.
[NOTE: this eBook is rich in valuable content – we will only email it to people who have provided valid work email addresses].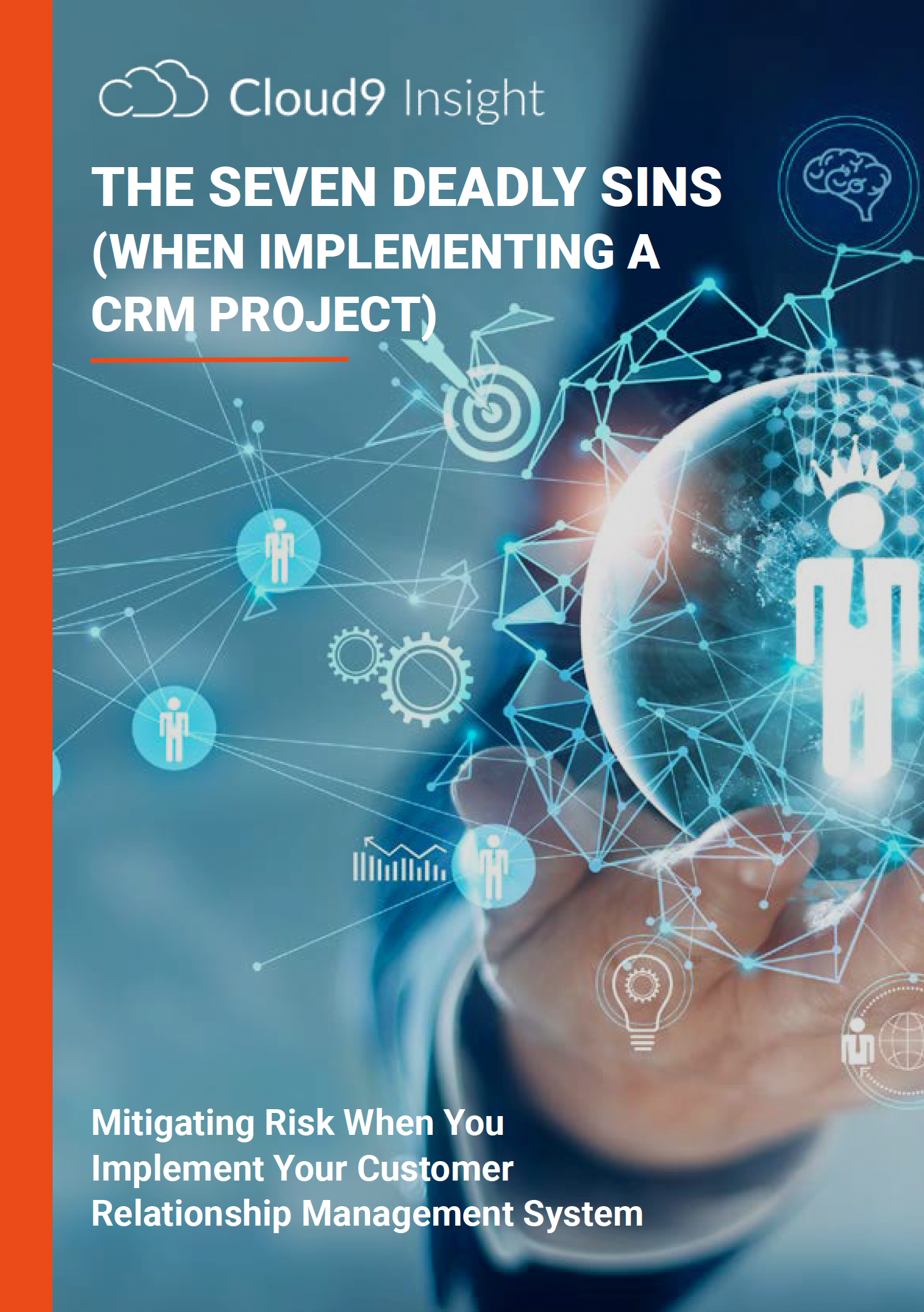 Why Cloud9 Insight for your CRM solution?
Cloud9 Insight is an award-winning Microsoft Gold Partner, specialising in Dynamics 365 Customer Relationship Management (CRM) software. Our purpose? To level the playing field between SMEs and The Corporates using vision and technology. We support SMEs throughout all stages of the technology-adoption journey:
VisionVision setting and adoption of best practice sales, marketing and service processes.
DesignDesign and implementation of tailor-made systems to support business growth.
TrainingIn-depth training for all users to ensure highest levels of user adoption.
Client Success Care Package Ongoing client care (including break-fix, unlimited training and system optimisations).
Whether you're working from spreadsheets, or a CRM system that may be constraining your ambition, Cloud9 Insight can provide a tailor-made Dynamics 365 solution for your business.
Why Microsoft's Dynamics 365 CRM system?
Dynamics 365 is a cloud-based Customer Relationship Management (CRM) solutiom and enterprise resource management (ERP) platform. There are six different Customer Engagement modules within Dynamics 365 that fulfil broad range of customer relationship needs:
Six CRM Solutions for SMEs
"Cloud9 was quick and collaborative. For us, speed was of the essence, and they brought that. Microsofoft Dynamics 365 is absolutely imperative for the success of our team."
- Joshua Rowe Head of Mergers and Acquisitions, ClearCourse Partnership