Dynamics 365 for Project Operations
Dynamics 365 for Project Operations supports you with a unified sales management dashboard, this module helps you complete your projects on time and within budget. Optimise resource utilisation in order to free up time for your team to win more bids and drive innovation through this tailored application.
Dynamics 365 for Project Operations Capabilities
Improve visibility, collaboration, and agility with Dynamics 365 for Projects Operations.
From prospects to payments and profits, make sure your project succeeds.
Automate your project managementEnsure your projects are completed efficiently with this software's live reporting and analytics.
Maximise your project's profitabilityMaximise your project's profitability. The software enables you to configure project costing, governance, and compliance so that you can optimise your project's economics.
Manage expenses efficiently The module can track both time and expenses, and provide you with powerful visualisation, allowing you to drill further down into your data and realise its value.
Boost customer satisfaction Ensure your customer get accurate timeline and cost details with this application. It features inbuilt management and forecast tools to help your project service team stay on track and achieve project objectives.
Empower your team Members can easily update their profiles and skills so that project managers can allocate them effectively. Before they start a project, members can gain an understanding of details through the software's native scheduling tools.
Optimise your resources Get real-time visibility of resource availability and utilisation with this module's scheduling and resource management features. The software can forecast when resources will be in demand. It helps you ensure you have the right people, working on the right project at the right time.
Manage and collaborate more easily Take advantage of embedded Microsoft Project capabilities including task management, flexible scheduling, interactive views such as Timeline (Gantt charts) and Board (Kanban), and work breakdown structures.
Improve accounting management With all your accounting data integrated into one solution, plus embedded Power BI visualisations, it's easier to keep your projects within budget. You have built-in dashboards for KPIs, a configurable CPQ engine, plus invoicing, revenue recognition, and project accounting.
Drive your project lifecycle Want to win more deals, deliver successful business outcomes, and boost profitability? Connect your project sales, resource management, project management, and finance teams with this single solution.
Increase agility With all parts of your project services unified, your team members can use built-in dashboards to quickly get to the information and analytics they need and deliver the outcome your customers expect, on time.
Integrations for Dynamics 365 for Projects Operations
Expand Project Operation's capabilities with these Microsoft integrations: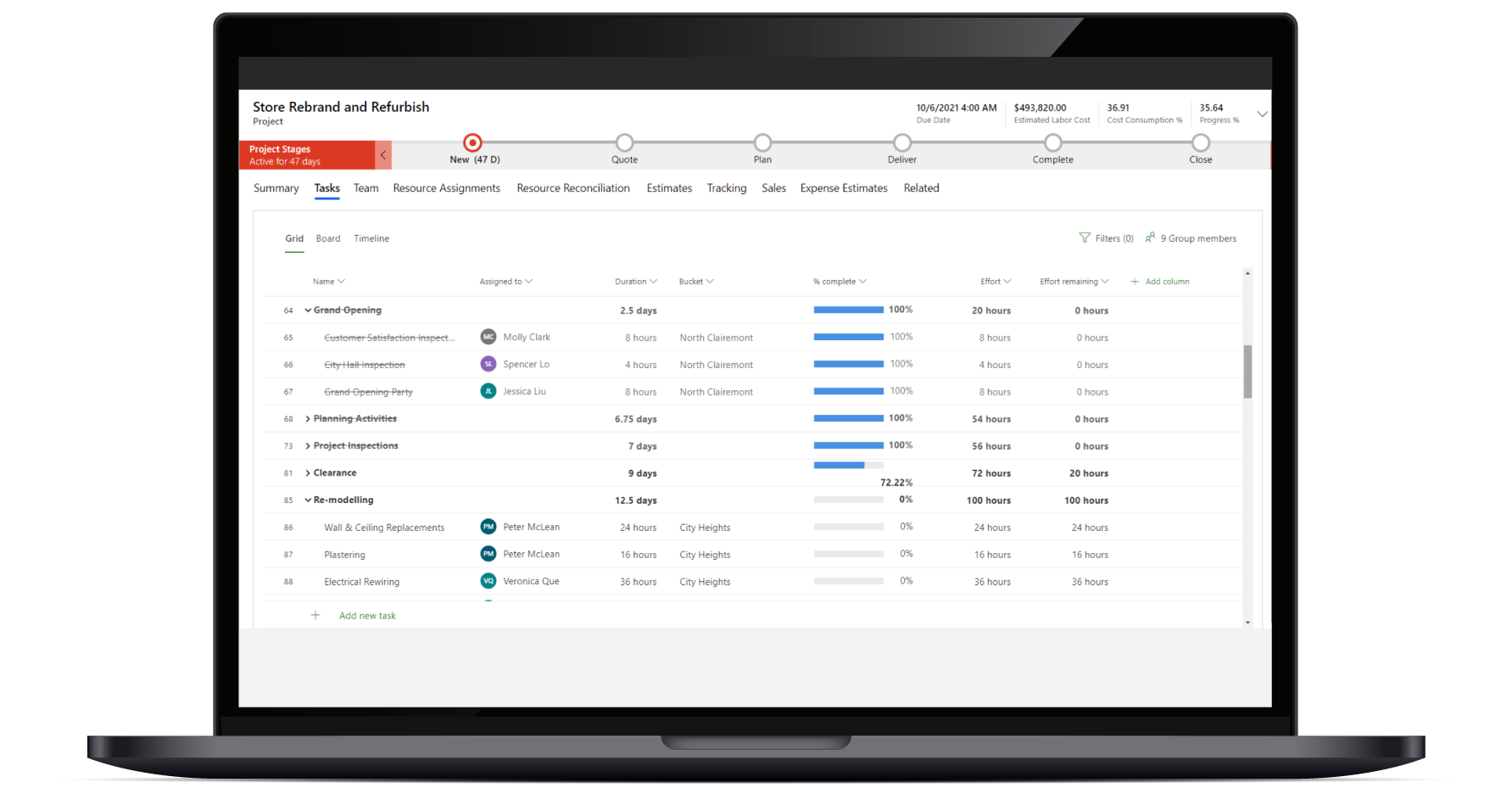 BOOK A DEMO for Dynamics 365 for Project Operations with a member of our team using our easy-booking system.
Explore Other CRM Modules
Dynamics works better together. Explore other CRM modules here: