Integrating LinkedIn Sales Navigator With Dynamics CRM
LinkedIn, the world's largest professional network, released Sales Navigator in 2014, adding numerous features and integrations to the site in the following years. One such connection was with Dynamics 365. Understanding how to integrate LinkedIn Sales Navigator with Dynamics CRM opens up one of the most exciting technologies for sales teams in 2021.  
OK, that was a pretty big claim.
But hang tight, we're about to blow your mind.  
So, what can Sales Navigator do on its own?
Sales Navigator works as an extension of LinkedIn. Accessible from the top right hand corner of your profile the feature allows you fully use LinkedIn sales to its potential.
Gone are the days of manual data-inputting on spreadsheets and crawling through hundreds of connections to find that all-important CEO, only have to sit and hope they accept your connection invite.
Now you can use Sales Navigator's impressive search tool or 'lead generator' to find your perfect customer avatar AND you can bypass the need for a connection with this individual thanks to InMail. BUT, it doesn't stop there…Sales Navigator also allows you to monitor:
job changes
account money raises
when a lead has interacted with your content
a comprehensive database of notes on your leads
They really are spoiling us.  

So how does that cool search function work?
Let's rewind a minute and revisit the 'lead generator' or 'search bar' function on Sales Navigator because with this, the possibilities really are endless.
Users can use the function using either a Boolean search approach, or with filters (or both if you want that extra control over results).
Through a series of drop downs and keywords you can define your search criteria. Ever wanted to find all the senior level Marketing Executives in Brighton, East Sussex, that studied at The University of Edinburgh, who specialise in SEO and are self employed?
You can do that with just a couple of clicks. Not only that, but you can save this search to revisit it, select profiles to add to a correlating lead list and set alerts when a new lead appears that fits your perimeters.
And why should I integrate LinkedIn Sales Navigator with Dynamics CRM?
To truly harness the opportunities, you need to know how to integrate LinkedIn Sales Navigator with Dynamics CRM. Both products are designed to 'strengthen customer relationships' and trust me, they do. First off, the connection is seamless, on both sides.
On Dynamics 365, you are presented with your account and lead records with Sales Navigator embedded on the profile allowing for quick viewing of job changes, recent activities, profile picture and headline information as well as an integrated notes section providing you with activity data.
This could include calls, notes and received marketing content all inputted from either Dynamics 365 or directly from Sales Navigator. This can all be activated by your system admin turning on the 'CRM sync' meaning everything on the profile, including pictures, is updated in real time with LinkedIn inside your CRM.
Furthermore, there's Smartlinks which allows you to share content easily and directly by sending a link to your recipient.
You can then track insights into how your employees and clients are using the tool and monitor buying behaviour as a result of the file transfer with your Dynamics 365 integration; in turn realising the link between the receipt of these files and a final deal outcome.  

Better insight into prospect company structures
The connection between the two platforms also allows for a live org-chart to be viewed of each account/company. This provides you with a real time view of a company's hierarchy for a more complete overview of an account.
Data for this can also be entered manually or through 'business card scan' which allows data to be pulled directly from a scan of a business card.
If all this weren't enough, thanks to some updates at the beginning of 2021 we can also create contacts and leads directly from LinkedIn to your Dynamics 365 CRM without even opening the application.
Simply select a LinkedIn profile and click the 'add to CRM' button on the top right hand corner and the information is auto-filled straight from the profile.
Talk about streamlined working!    
LinkedIn Sales Navigator Pricing
 If we've sold you on integrating LinkedIn Sales Navigator with Dynamics CRM you might be thinking "How much is all that going to cost me?".
Well, don't worry, we've gathered the info for you.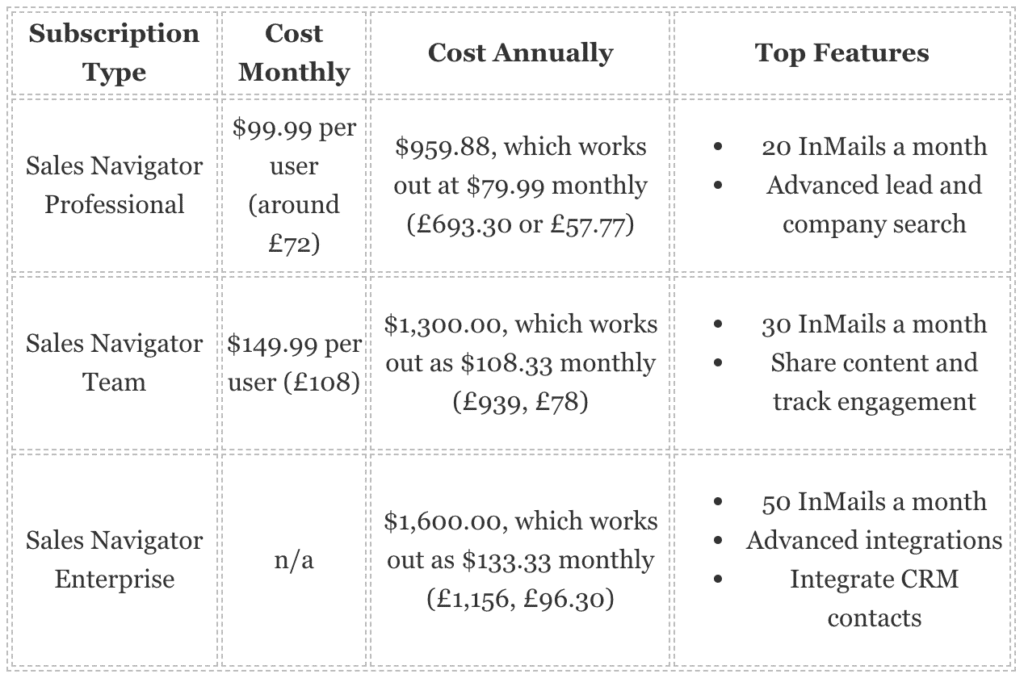 If you need help deciding on what's right for you/ your business, check out LinkedIn's list of features and if you just want to try the packages out, check out Team Trial and Professional Trial.
Bear in mind the Dynamics 365 integration is only available with the Teams or Enterprise packages, unless you have a Microsoft Relationships sale subscription for Dynamics 365.
How about the types of seats you can have in the programme?
What features will your programme give you? This is a pretty straightforward case of "does it / doesn't it?" have x, y or z. So we've made another table for you.

We hope we've helped you understand why you should think about integrating LinkedIn Sales Navigator with Dynamics CRM. If you're persuaded and would like to find out how we can help, contact us by clicking the button below.
Not sure where to start? Get in touch
Get the latest Dynamics 365 news, blog updates, webinars events and invitations.