Cloud vs On-premise – Which Is Better For Your CRM system?
So you've decided that Microsoft Dynamics 365 is the customer relationship management (CRM) system that your business needs – but there's another big decision still to take.
Should you implement your system in the cloud or as an on-premise solution? Let's dig in to the two options and what the implications are for your goals. But first some definitions.
Definition of "on-premise" CRM systems
This is the conventional approach, in which a business purchases licences and installs software on-site on its own servers and its own IT people are managing it. That management includes sole responsibility for the upkeep and maintenance of the hardware. On-premises solutions, keep all business data in-house, providing businesses with full control of how and where data is stored.
Definition of cloud CRM systems
In short, this is anything that is not on-premise. In the case of Dynamics 365, it is a software-as-a-service (SaaS) application, hosted by Microsoft in the cloud. No hardware is needed and the CRM system can be used remotely from multiple devices. All information and data on the system is protected by Microsoft's secure servers.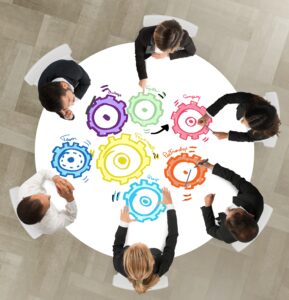 On-premise vs cloud – which CRM system deployment is right for you?
Let's split this into cost, control, and security.
In an on-premises environment, organisations are responsible for the ongoing costs of the server hardware, power consumption, and space. Cloud CRM providers, on the other hand, nearly always charge on a pay as you go, per-user basis, reducing costs significantly. There's no hardware required, nor any physical infrastructure so capital outlay is minimal to non-existent and there are no maintenance costs. Cloud CRM systems require no IT staff on-site, meaning staffing costs can also be reduced.
Enterprises that choose to deploy on-premises, keep all their own data on-site and are in sole charge of how it us used. This can be attractive for companies in highly-regulated industries in which data management and privacy are big concerns.
In a cloud computing environment, issues with the internet can come into play. Data and encryption keys reside within the third-party provider, so if the internet connection fails, access to critical data may not be possible and the restoration of full service might be time-consuming, depending what the problem is.
Hacking of cloud-based services is a story that occasionally creeps into the media and is something many information businesses fear. It is an almost non-existent threat at organisations that have deployed on-premise. Therefore, handing over control over the security of your organisation's data might make you nervous. In most cases, however, this fear is not justified. Vendors are usually ultra-careful with their security practices and practice internationally-recognised standards.
If you're thinking of starting out with a cloud-based CRM solution – or if you're migrating your legacy on-premises system to the cloud – many of your concerns will be alleviated by choosing a reputable system, like Dynamics 365.
For more information or advice, schedule a call with Cloud9 Insight's Sales Director, Curt Bean, by clicking here.
Get the latest Dynamics 365 news, blog updates, webinars events and invitations.