Measuring culture – our three new commitments to colleagues at Cloud9 Insight
We regularly post videos of our colleagues telling the world why they choose to work at Cloud9 Insight.
They're voluntary and unscripted and it feels like an authentic way to show prospective employees out there in the world what we get right in our business. What continually shines through in those two or three-minute films is that we're not just about creating lofty-sounding mission statements solely for our annual report.
Our culture – of collaboration, positivity, entrepreneurialism, and fun – actually resonates strongly with the values of the vast majority, if not all, of our employees.
So, we wanted to see whether this positivity was replicated when colleagues were asked for their views away from the glare of the camera – via our Employee Engagement Survey (spoiler: it was!).
Our colleagues gave us advice…and we're taking it!
We don't say this to boast – there's always room to improve – but the results vindicated what we're trying to do here: create a culture where our values can flourish.
We're sharing some of the highlights below because we want you to know, especially if you're considering a career move, what we're all about.
There's another reason why we want to share the survey responses: we are committed to improving our culture and we want to be held accountable for that promise. So we made three brand new commitments to our colleagues as a direct response to their answers and we want to make them public so you can check back with is to ensure we're not making empty promises.
Values and work / life balance
Some 92% of our colleagues said they were "surrounded by people who share Cloud9 Insight's values", while 96% believed their work was "appreciated & meaningful". Asked if they were growing professionally and whether they had a good work/life balance, 88% of our colleagues answered "yes" in both cases. Surprise qualitive feedback revealed interest in four-day working week.
Our commitment #1:
We will review ways of improving work / life balance still further and look to explore new ways of working that fit around the lives of our colleagues and their families. We are in the process of implementing new flexible working practices which require employees to work core hours of 10am-4pm and employees can choose when they work the remaining hours.
For example, a parent with young children may prefer to work core hours and then the remaining hours after their children go to bed at night. Or exercise lovers might prefer to leave early or arrive late to fit the working day around their daily work out.
Regarding the interest in a four-day working week, we are now in consultation with employees and our legal team about how we can implement a nine-day fortnight with just an extra 30 minutes working a day. We are also consulting on implementing an additional twist on this so that every alternate Friday becomes a strategy, innovation and learning day to maximise team working and entrepreneurial thinking and to accelerate career progression.
Workplace relationships
Literally every respondent agreed with the statement "my manager values my opinions and contributions". Some 96% said they had "great confidence" in their Cloud9 Insight future and the same number said their manager was investing in their personal growth. 84% said they were "recognised for excellent work".
Our commitment #2:
We will introduce a company-wide meeting once a month, at which the successes of individuals and teams can be shared in the widest possible way and in real time to a 'captive audience'. This adds to the monthly employee e-newsletter that we already have in place, On Cloud9, which celebrates individual and team successes.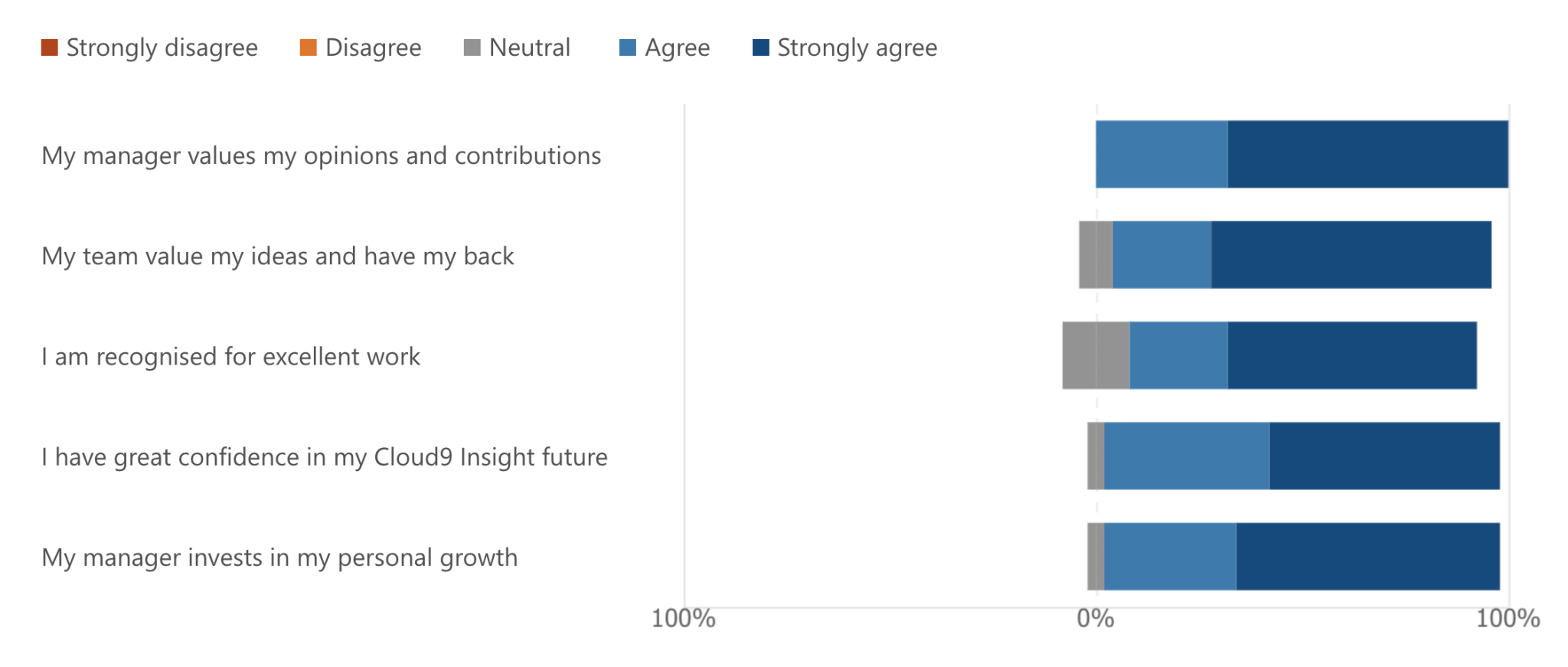 Benefits and perks
Our commitment has always been to offer one of the best benefits packages, not just in our industry or our region, but in the entire SMB sector. So we asked our colleagues to rate each perk by "Not valued", "Moderately Valued", and "Highly Valued".
Our most highly-valued benefits were as follows:
Enrichment Days (six extra days off work p/a beyond normal leave to 'create happy memories'): not valued = 0%; moderately = 12%; highly = 88%
Homeworking: 0% / 12% / 88%
Investment in training and qualifications: 0%/20%/80%
Private medical insurance: 0%/28%/72%
Company social events: 0%/28%/72%
Offsite days for team-building: 0%/28%/72%
There were many other benefits that were greatly appreciated including:
Income protection during long-term sickness (8%/20%/72%)
Free professional advice service covering legal, financial and mental health assistance (4%/56%/40%)
Unlimited unpaid holiday (16%/48%/36%)
The only benefit, in fact, that produced a significant number of shrugs of the shoulders was free fruit (40%/32%/28%). Make of that what you will!
Our commitment #3:
We will use our internal communications channels to promote benefits every month so that uptake of the most-cherished services increases and over-all sentiment improves still further.
And the fruit stays! 😊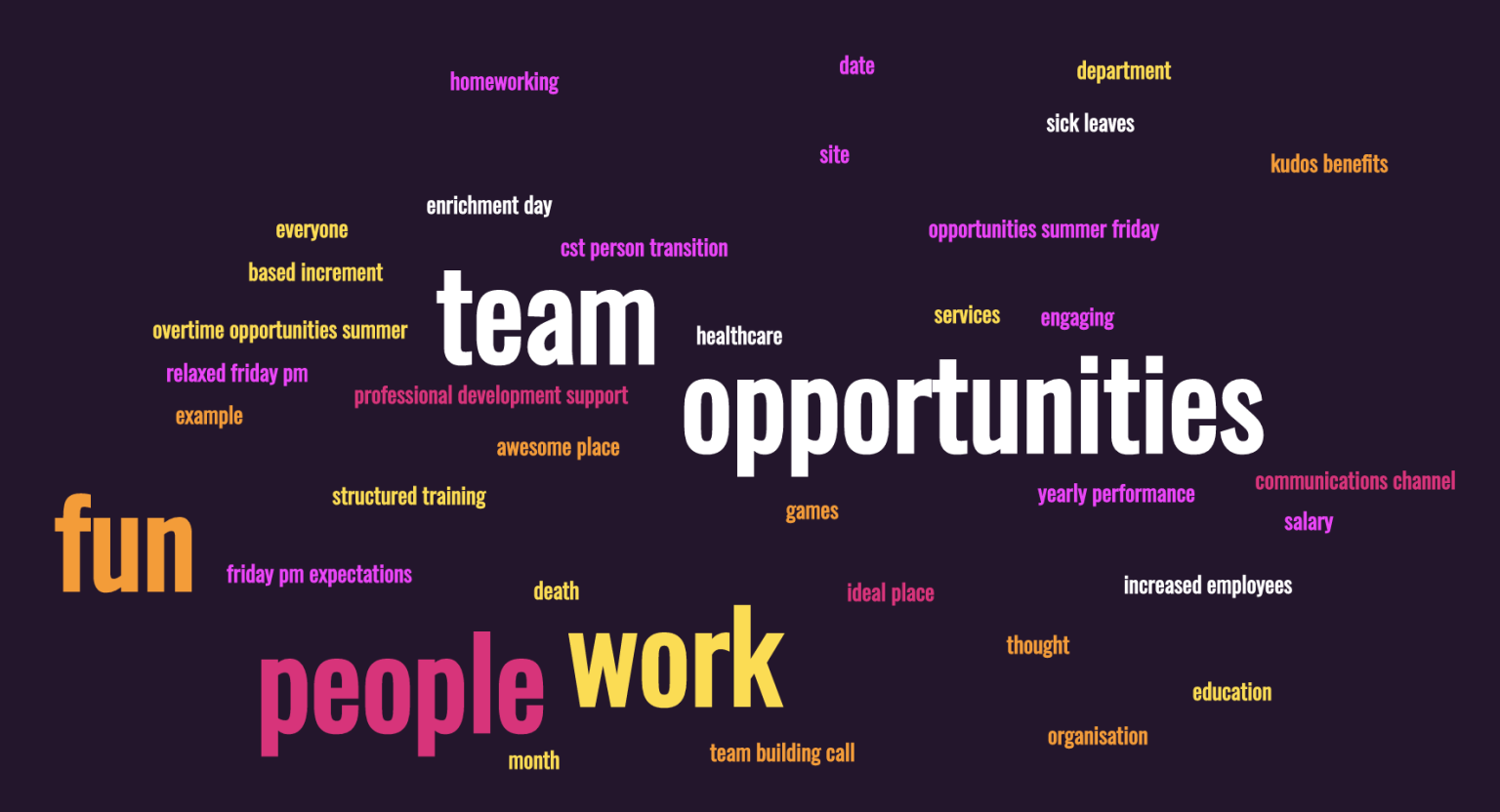 From quantitative to qualitative
There was a huge amount of qualitative data in the survey with employees being given the opportunity to build on their answers in full sentences. So we now have a meaningful, coherent narrative about how our colleagues feel about Cloud9 Insight, their roles there, and where they would like to see us go.
We are using this exercise to give management better insight into how they can improve work practices, processes and systems. We want to pinpoint exactly where we need to improve by identifying common areas in which employees feel there are ways of doing things better.
We are also using this data to help us strike the right balance between home working and hybrid. As any company owner reading this will know, the challenge is ensuring colleagues have flexibility in where they work, while ensuring people are physically together in the same environment when we need them to be.
For example, on-the-job coaching often works better when both trainees and coaches are together. Similarly, we need to take account of the mental health risks of isolation and the detriment home working can have to team bonding, creativity and learning.
And, as we said above, we want to be held to account – which is why we have made three solid commitments to our staff. So please check back with us in six months to see whether we've been true to our word.
Get the latest Dynamics 365 news, blog updates, webinars events and invitations.